Heroin Addiction Treatment Center in Indianapolis Indiana ​​
Heroin addiction can be one of the most challenging struggles a person can face. It can wreak havoc on not only the addict's life but also on their loved ones. Thankfully, there is hope, and that hope lies in treatment centers that specialize in heroin addiction. Don't let heroin addiction win; reach out and begin the journey towards a healthier and happier tomorrow. Contact Evolve Indy today to learn more about our Heroin addiction treatment program.
Introduction To Heroin Addiction
Heroin is a drug made from natural substances found in nature. Heroin is a manufactured drug made from morphine, a naturally occurring substance extracted from the seed pod found in the opium poppy plant. Poppy plants are native to many South American and Asian countries, including Mexico and Columbia. The opium poppy is a crucial source for the active ingredient found in many legal and illegal narcotics, including prescription pain medications such as codeine, morphine, and heroin.
Pure heroin is a white powder that originates primarily in South American locations. Depending on where it is manufactured, heroin will range in color from pure white to tan or brown. Pure heroin powder can be ingested in a variety of ways. The most common include snorting, smoking, or rubbing the powder onto the gums. Heroin can also be mixed with water and injected into the veins. Another type of heroin is called black tar heroin. Black tar is a dark (lack) sticky substance that resembles paving tar. Black tar heroin may also be solid like coal. This type of heroin is generally produced in Mexico and is common in the southern United States in areas west of the Mississippi River.
Heroin goes by several "street names." Many of these names are derived from the type of heroin being described, and others have developed over time. Some of the most common include smack, Hell Dust, Big H, Thunder, Negra, Tar, and others.
The Heroin Epidemic In Indiana​
In 2017 more than 1800 Indiana residents lost their lives to drug-related overdose. This data points to a decades-long annual increase in overdose deaths. Representing the highest drug overdose rate yet, 2017 statistics were nearly 22% higher than 2016 and higher than the national average. In 63% of overdose cases, opioids were involved.
The Indiana State Department of Health indicates the opioid epidemic in the state has occurred in three distinct waves. Beginning in 1999, the first wave was linked to increases in the rates of prescribed opioids. The second wave started a few years later when those who now struggle with an opioid addiction (to prescription drugs), could no longer access prescriptions legally. Hence, they turned to a cheaper and easier-to-acquire alternative, heroin. The third wave began around 2014, driven by manufactured opioids, such as fentanyl.
Although fentanyl-related deaths continue to rise, the heroin epidemic remains alive and well in Indiana. In 2018, heroin was found in more than 1200 drug case submissions (compared to 680 cases linked to fentanyl). Both of these statistics represent a stark increase over just five years prior when heroin was indicated in just over 1000 cases and fentanyl in only 15.
Data from the same report indicates heroin addiction in Indiana impacts the genders differently. When examining overdose statistics for 2017, males accounted for more than 60% of overdose cases. The majority of deaths were among white (80%) individuals between ages 30-39.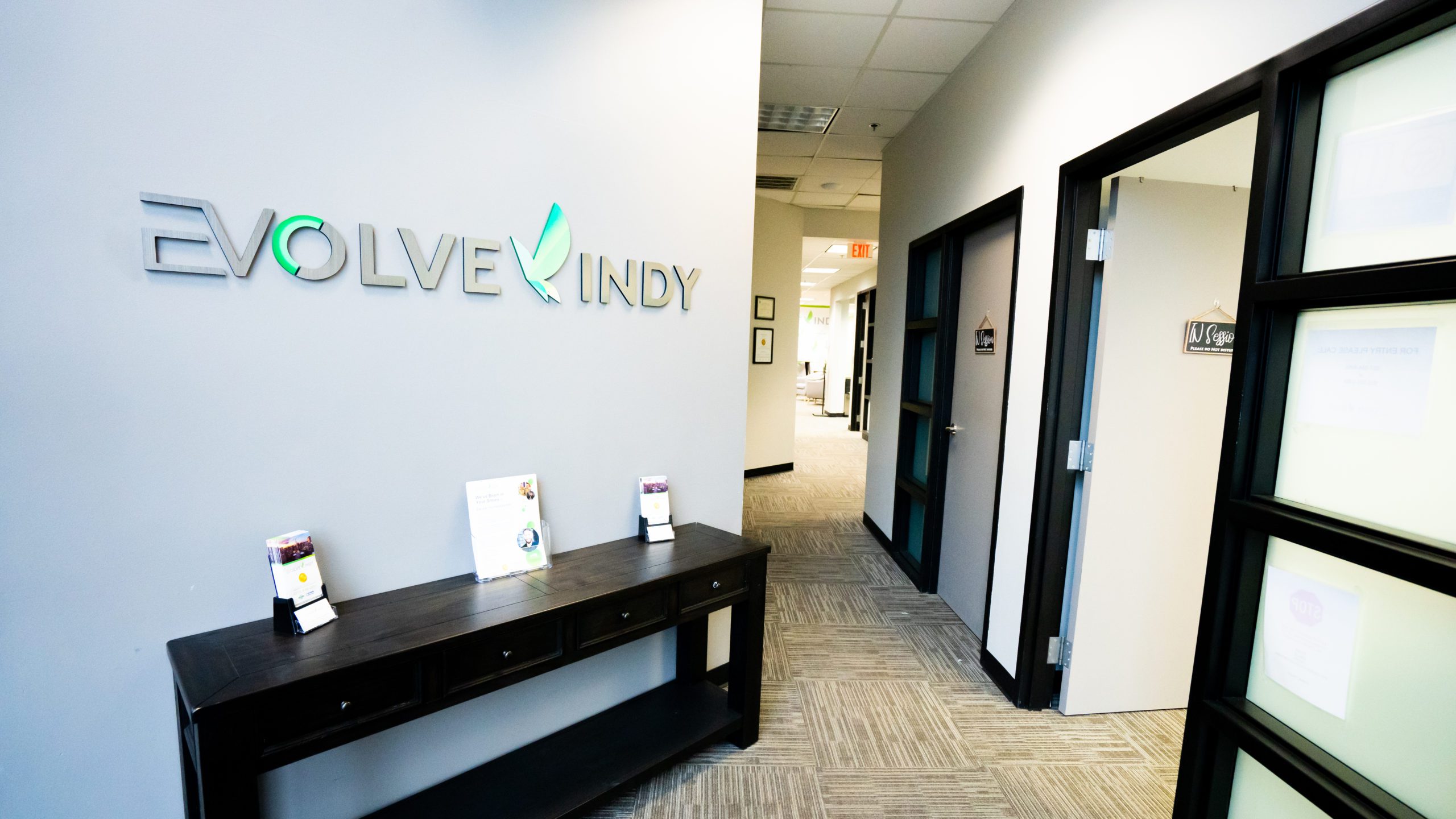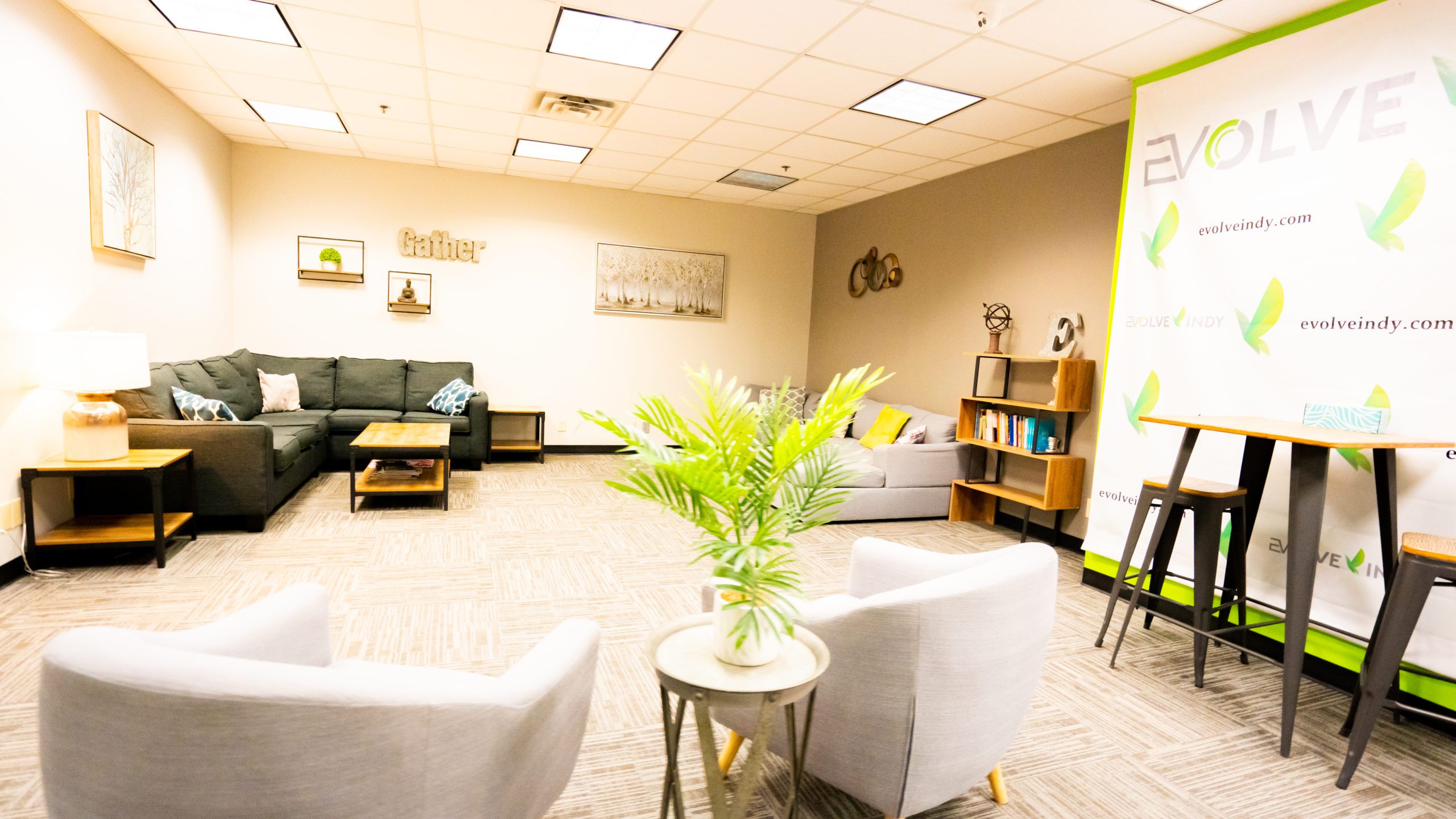 Discover Our Carefully Curated Environment
The environment of a rehabilitation facility matters. The positive and negative impacts of the surroundings in a recovery center can make or break the outcome of recovery. Designing a drug rehab facility near East St. Louis requires a thoughtful approach that prioritizes the needs of patients and staff.
Evolve Indy has taken many measures to provide an environment that caters to our staff and clientele. This results in a high success rate for long-term recovery. Here are some of the quality accommodations we provide at Evolve Indy.
We have designed our rehabilitation center to promote healing and recovery within a calming environment.

Thoughtful spaces that accommodate various therapeutic activities and support group sessions.

A layout that encourages movement and social interaction while maintaining privacy and safety.

Accessible and comfortable living spaces that feel like home and provide a safe place during a difficult time.

Thoughtful selection of materials, colors, and textures that are durable, low-maintenance, and promote a positive atmosphere.

Integration of natural elements such as plants and natural light for a restorative effect.

Incorporation of state-of-the-art technology to support treatment and monitoring.

Compliance with all applicable regulations and standards to ensure patient safety and well-being.

A culture purposely curated for understanding and caring support. Staff members who are in recovery, or love someone in recovery have been thoughtfully chosen to join our team for increased support and proof that recovery is possible.
Drug Addiction Treatment Center in East St. Louis
Individualized & Customized Addiction Treatment Programs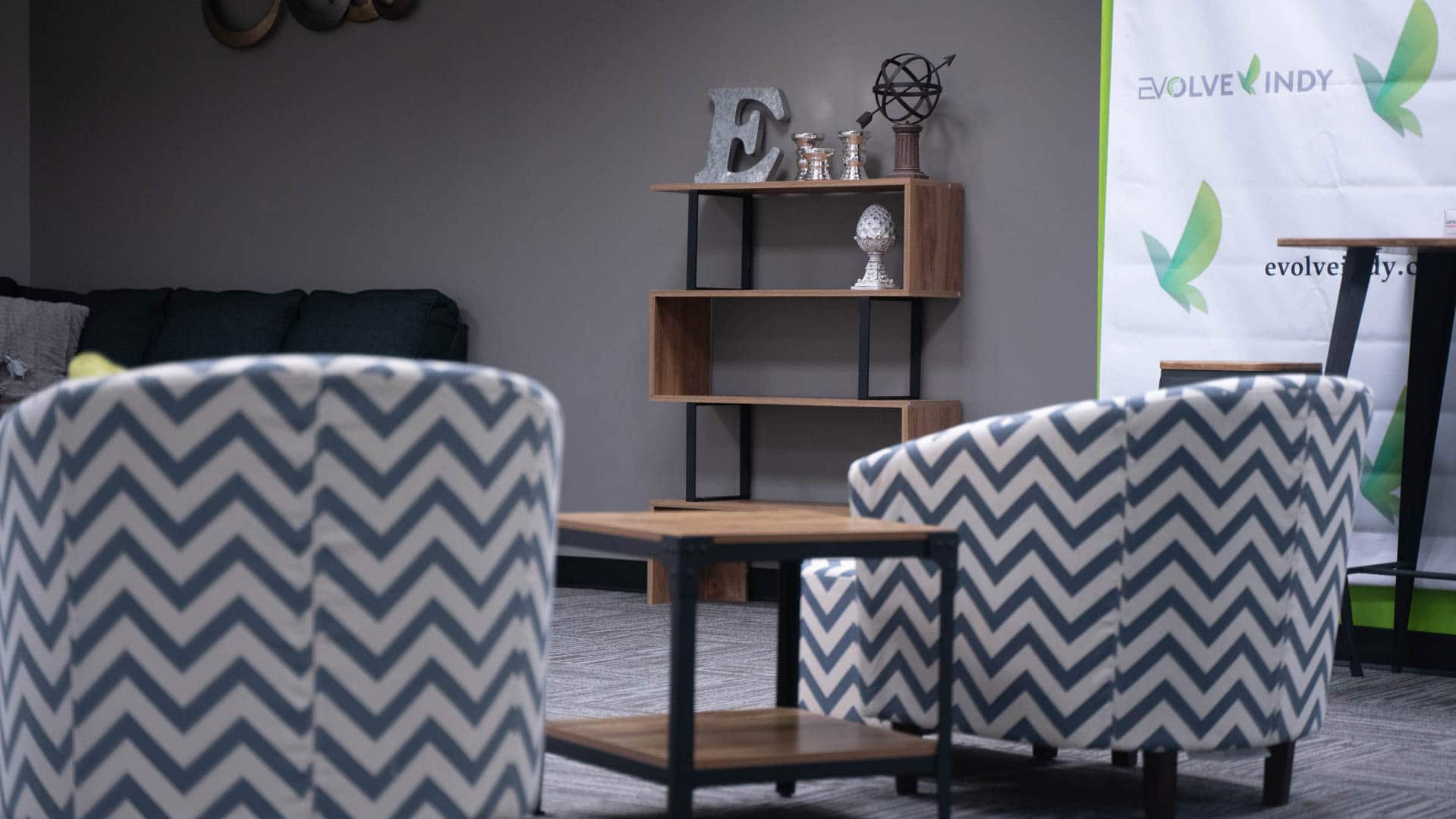 Partial Hospitalization
This model of care is comprehensive, enabling individuals to take back control of their lives and overcome addiction through a variety of evidence-based treatments.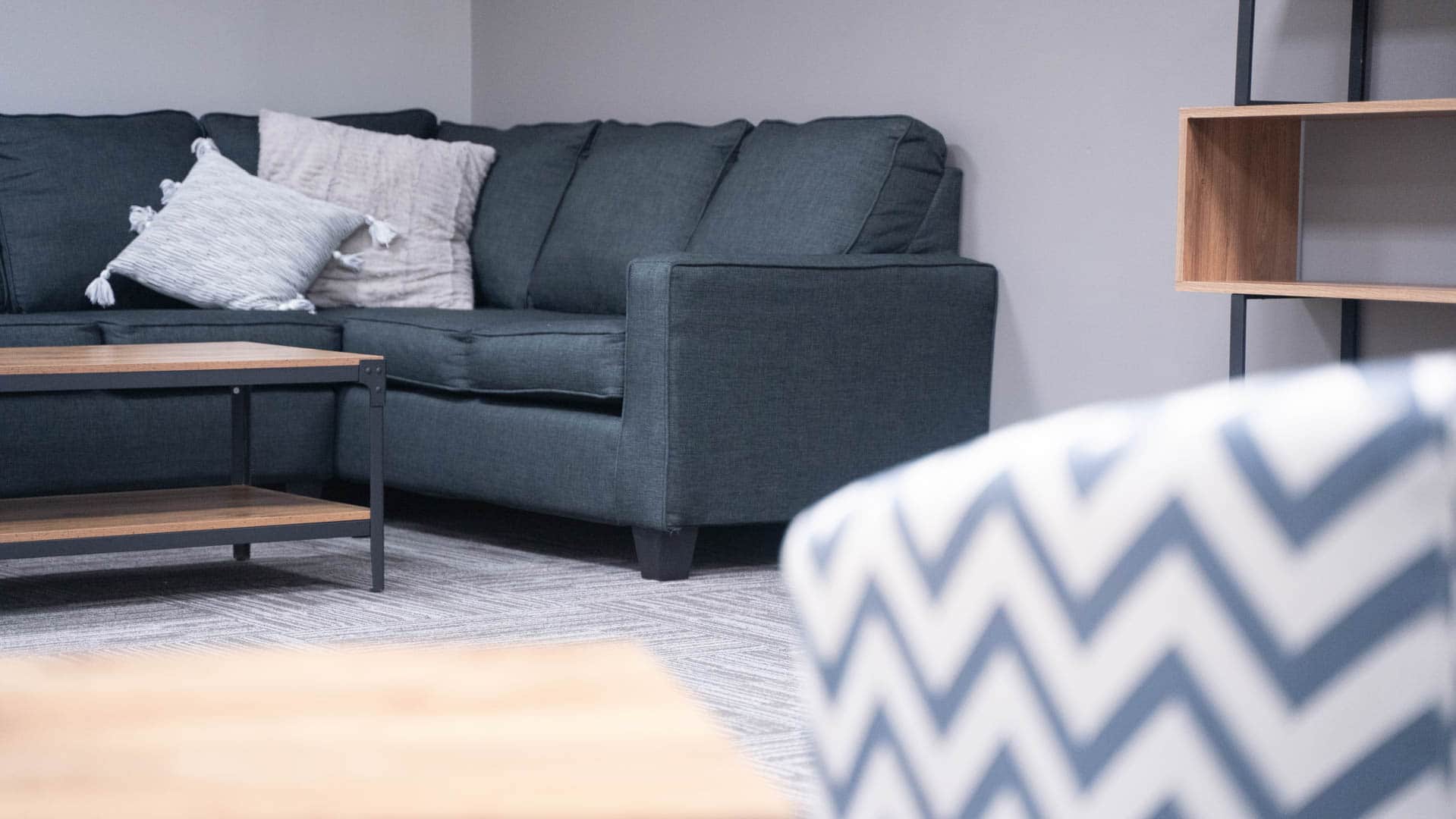 Intensive Outpatient
Our intensive outpatient program aids individuals struggling with drug and alcohol addiction in discovering a lasting journey to recovery, facilitated by ongoing, extended treatment.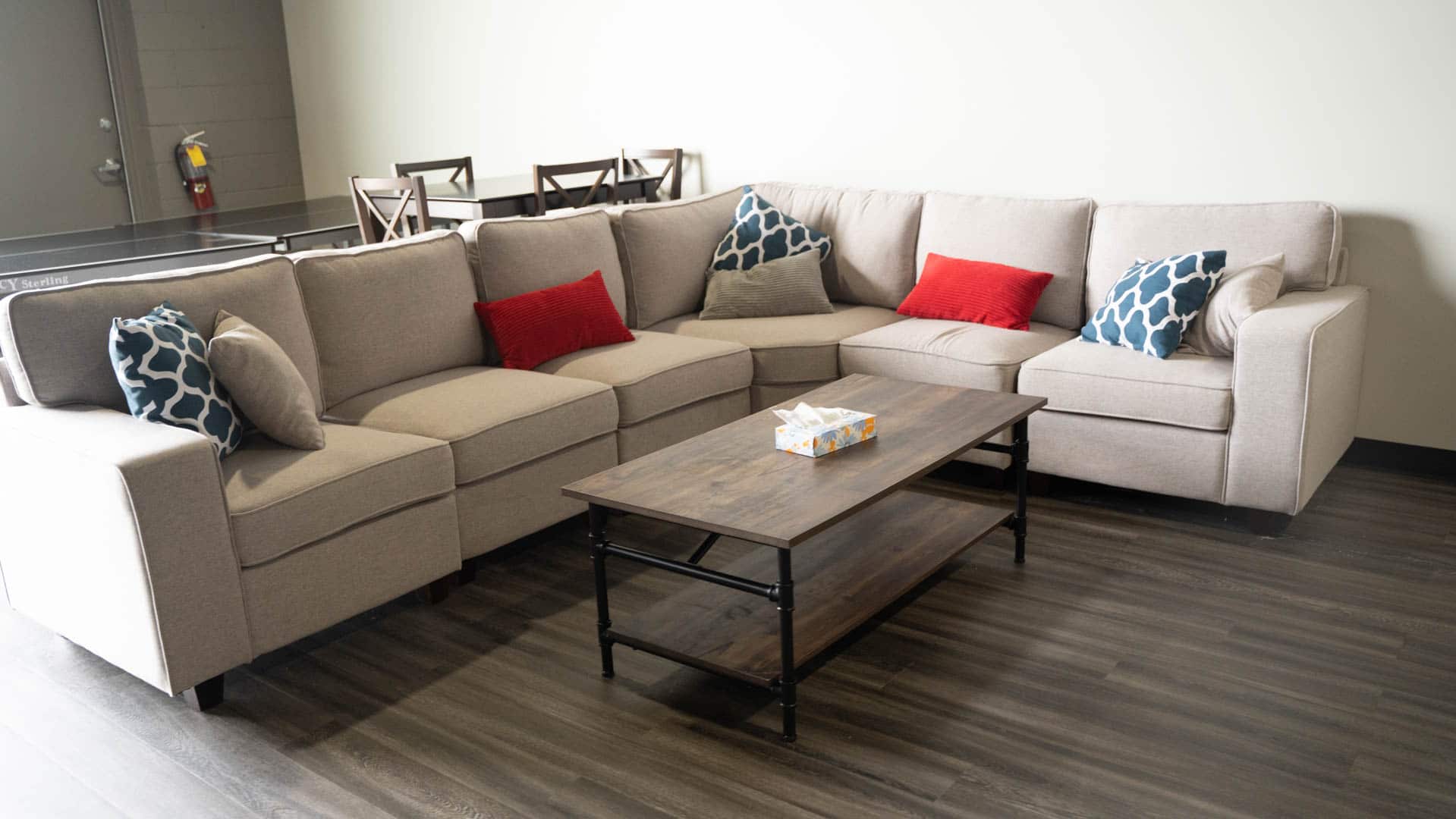 Outpatient Program
The outpatient program at Evolve Indy serves as a reduced intensity level of care, integrating the essential elements of our primary program with a more flexible approach.
Signs & Symptoms of a Heroin Addiction
Heroin is similar to many other opioid drugs. When someone uses heroin, tolerance, dependence, and addiction develop quickly. Tolerance occurs when you begin using heroin with time, and find that you need higher and more frequent doses to maintain the high you remembered from your first dose. As tolerance and dependency develop without comprehensive addiction treatment at a heroin rehab like Evolve, so does your risk for accidental overdose and death.
Addiction is a disease unique to the individual. While two people may struggle with heroin addiction, the outward symptoms of their addiction may be different. Many factors contribute to how heroin addiction will affect someone. These include the severity of their addiction, how long they have been using, how they use heroin, and how much or how often they use. Depending on their unique addiction, symptoms may be mild early on, before progressing quickly to a moderate or severe addiction as their tolerance builds.
Signs of heroin addiction can be physical, psychological, and behavioral. The physical symptoms of heroin addiction are often the first to occur and the most apparent to friends and family. When someone injects heroin, they will feel the effects, including euphoria and happiness, almost immediately. Using heroin in other ways such as snorting, smoking, or running onto the gums does not produce the same immediate reaction; however, the signs of a heroin "high" will be apparent as soon as the drug begins to work within the brain.
Some of the most common physical signs of heroin use include itching, constricted pupils, flushed skin, and vomiting. When someone uses heroin through an IV injection or needle, track marks are often apparent. Other signs of heroin use that are physical, but perhaps not immediately obvious, include dry mouth, respiratory problems, and stomach issues. If a loved one is struggling with a heroin addiction, they may also need to use laxatives frequently to reduce feelings of constipation. You may also notice new or worsening legal or financial issues (related to heroin use), drug-seeking behavior, lack of interest in personal hygiene, the presence of drug paraphernalia, and increasing (yet voluntary) isolation.
Insurance Can Help Pay for Treatment

Evolve Indy works with most major insurance providers to ensure the lowest out-of-pocket
costs when you enter treatment at our facility.
Fill out the form to get a free consultation.
One of our caring treatment advisors will
contact you as soon as possible.
Heroin Addiction Treatment Center in Indiana​
Overcoming heroin addiction is most effective with assistance from a professional, comprehensive addiction treatment program. When you develop an addiction to heroin (including physical and psychological symptoms), you will experience withdrawal symptoms when you stop or try to reduce the amount of heroin you use. Similar to other opioids, heroin can produce dangerous and potentially fatal withdrawal symptoms. Therefore, detoxing from heroin should be done under the caring and supportive guidance of a medically supported detox program. Some of the most common heroin withdrawal symptoms you may experience when detoxing from heroin include stomach issues, body aches and pains, sleeping troubles, fever, shaking, and uncontrollable leg movements.
In addition to the above symptoms, some people may experience severe and potentially dangerous withdrawal symptoms when trying to overcome a heroin addiction. Examples are abnormal heart rate, seizures, difficulties breathing, and delirium tremens or DT's in severe cases. The more severe symptoms of withdrawal can lead to potential medical emergencies. Depending on the nature and severity of your addiction, withdrawal symptoms can begin in as few as six hours after your last heroin dose and last for two weeks or longer.
Because of the potential for dangerous withdrawal symptoms, overcoming heroin is best done at a heroin rehab in Indiana. At a professional heroin rehab, a team of skilled treatment professionals will provide support and guidance throughout detox.
During detox, a team of medical professionals will continuously monitor your vitals and potentially administer medications to help reduce the severity and intensity of withdrawal symptoms. This helps make the detox process more manageable and provides the most significant opportunities for safe and successful detox from heroin.
If you are in need of treatment and are seeking a way out of addiction, you should stop reading and call Evolve Indy. They will provide you with all the necessary tools to get you ready to become the best version of yourself all while staying in comfortable accommodations. The staff is top notch and the therapists are wonderful. Everyone will go out of their way to make sure you feel supported.
Evolve Indy is a true blessing.
For anyone needing help with substance abuse, if you are tired of living the way your living. If you want something different, a new way of living. This is the place for you. The therapy is wonderful. The staff is amazing. The group settings are great! The facilities are top of the line. This place will give you a very comfortable environment to change and to grow if that is what you seek. I would highly recommend Evolve Indy if you want to change your life. Take it from me and my own experience, this place can totally change your life and absolutely make you a better person. Put the work in with this program and you will be amazed.
I had a great time at Evolve. The people there truly care about you mentally, physically, and spiritually. I've dealt with health issues and they took me multiple times to doctors and specialists. The house is amazing. The Sunday outings are a great way to have some fun while in treatment. The classes are engaging and helps with underlying issues. I've been to other treatment centers and this one by far is dedicated to your success.
Evolve was seamless for me from living in a treatment facility -to- transitioning back to the real world. Their staff is experienced, knowledgeable and genuinely care. If you're willing to do yourself a favor by leaving your old life, give Evolve some serious thought.
I loved being here. I came from one 30 day treatment to this one. It helped me and my family really get thru some of the stuff we had been hiding and not dealing with it. We now have a better relationship and now I can have a opportunity to get my kids back home with me. Best decision I ever made was continuing my recovery with this place. Thank you for helping me.
This place has been a saving Grace for me. I came from inpatient to to Evolve and it was the perfect next step for me. I have gained so many skills and tips to help me along my journey. I would recommend this facility to any struggling addict or alcoholic.
Evolve Can Help You On Your Path to Recovery From Heroin​
Long-term heroin use can lead to severe physical and psychological consequences. The safest and most effective way to overcome a heroin addiction is to seek help from a heroin treatment center in Indiana. At Evolve, skilled medical and mental health treatment professionals will work with you to design a unique and individualized treatment plan that helps you overcome heroin addiction.
We understand that seeking help away from home to quit heroin is not easy, but it is a vital step on your journey to recovery and lasting sobriety. Attempting to quit heroin without the help of professional detox is often more complex and less successful. For most, the effects of heroin addiction are so strong that attempting to withdraw "cold turkey" often leads to relapse, and it becomes impossible to adequately manage the severity of withdrawal symptoms without assistance.
At our Indiana heroin rehab, we offer a full range of comprehensive, evidence-based treatment options to help you meet your treatment goals. Our providers will help you through all stages of your recovery journey, beginning with detox, followed by therapy and aftercare planning. We are here to help you achieve and maintain lasting sobriety. Contact our admissions team today at our Indiana heroin treatment center to learn more about how our programs can help you get and stay sober.
Don't Let Addiction Win. Start Your Recovery, Now.