Addiction Treatment in Noblesville, Indiana​
Addiction can be a difficult journey to navigate on your own, but the good news is that there's help available for those who want it. If you're struggling with addiction in Noblesville, Indiana, there are plenty of resources and options for treatment to help you get on the path to recovery. Addiction treatment can vary from person to person, so it's essential to find the right program that works best for your needs. Don't be afraid to reach out for help – addiction is a disease and it's important to get the support you need to overcome it. With the right treatment and the right mindset, recovery is possible and you can start living a happy, healthy life free from addiction.
Seeing addiction statistics online or in the news will likely have a different impact compared to those of us who see the growing rates of addiction and drug abuse within our county. These can be our family members struggling, friends, coworkers, or even ourselves.
According to the Indiana Family & Social Services Administration (FSSA), alcohol is the most commonly abused drug in our state. This matches the national trend of alcohol abuse that we have seen. Our young adults, individuals from 18 -25 years old, have the highest rates of alcohol abuse compared to other age groups.
Marijuana is another highly abused drug in our state. Similar to alcohol, the highest rates of use appear among young adults. For our state, we saw a higher prevalence of individuals getting treatment for marijuana addiction when compared to the national rate.
Cocaine is another drug frequently abused in Indiana. The highest rates of abuse were again seen in our young adults. Cocaine abuse is known to lead to significant health concerns, including heart problems, breathing trouble, gastrointestinal concerns, and potentially death.
The rates of heroin abuse have been climbing rapidly in recent years within Indiana. In 2014, the number of individuals who sought treatment for heroin addiction was well below the national average. However, we have seen the gap shrinking over recent years. Heroin and other opioid addictions can lead to fatal overdoses if the individual does not receive medical attention. Even then, some overdoses are unable to be reversed with medications.
Hamilton County officials have put in place a harm reduction approach in response to the rise in addiction within our county. This means that they have put a focus on community outreach programs with the hope of decreasing some of the negative effects drug use can have.
For example, several drugs of abuse can be used intravenously. Unsterile equipment is known to have a direct link to transmitting infections such as HIV and Hepatitis. We now have needle exchange programs available in our community. We also have increased access to Narcan, also known as Naloxone, which is a medication that can be used to reverse the dangerous effects of an opioid overdose. Using Narcan can help save someone's life while waiting for emergency services.
With the harm reduction program, there are additional services available that can provide referrals for medical, mental health, and addiction treatment. There is a push on maternal education regarding the impact of using drugs and alcohol on both the mother and the fetus. These programs are all steps in the right direction!
What to Look for in a Noblesville, IN Drug Rehab​​
Admitting that you need help, regarding your drug and alcohol use, is a great step. The question then becomes, where do I go from here?
Chances are, you would benefit from some form of a treatment program. Many individuals need to attend a detox program before they can begin treatment. For this, you would want to look for a 24/7 medically supervised treatment program. Detoxing from benzodiazepines and alcohol can be dangerous, so we advise seeking medical attention. In contrast, other substances will cause an uncomfortable detox process. Being in a medically supervised program means that you have nurses and doctors monitoring for health crises and that they can support you in those moments that can be painful.
After completing a detox program, one option that you have is a Residential Inpatient Program. These programs can vary in length from 30 to 90 days. You would be living at the treatment program, so you would want to see if the living arrangements are comfortable. Other aspects of the treatment program to consider would be the quality of the meal plans, therapies and treatments used, available amenities, and the structure provided. Rehab programs should be utilizing evidenced-based practices and will likely offer group and individual therapy. Group therapy is the typical preferred treatment method for addiction because it gives you the opportunity to relate to others in a way that you were likely not doing in active addiction.
Addiction tends to lead to isolation, so when you are beginning to make connections with others, it can be quite uncomfortable in early recovery. Practicing this skill in a rehab setting allows you to feel more confident in doing so when you return home.
Another treatment program would be a Partial Hospitalization Program. These programs allow you to remain at your home and commute to the treatment center for your programming. The important detail here would be that your home is a safe, supportive and sober environment for you. These programs will likely include similar material as Residential Treatment Programs as well as group and individual therapy.
There are Intensive Outpatient Programs that are designed for individuals who have a "mild" substance use problem and those who have recently completed a rehab program. These programs tend to include 15-25 hours of group therapy per week with one hour of individual therapy. The length of this program should be tailored to you and your needs. You'll want to avoid programs that use a "cookie-cutter" approach to their treatment because your needs will be different from others.
No matter what level of care you need, you want to be sure that the treatment program is able to address all addiction and mental health needs you have. Not all treatment programs are created equal, and some focus on a particular drug of choice. It is important that you receive treatment for any mental health treatment concerns that you have, especially if your use of drugs and alcohol was an attempt to self-medicate.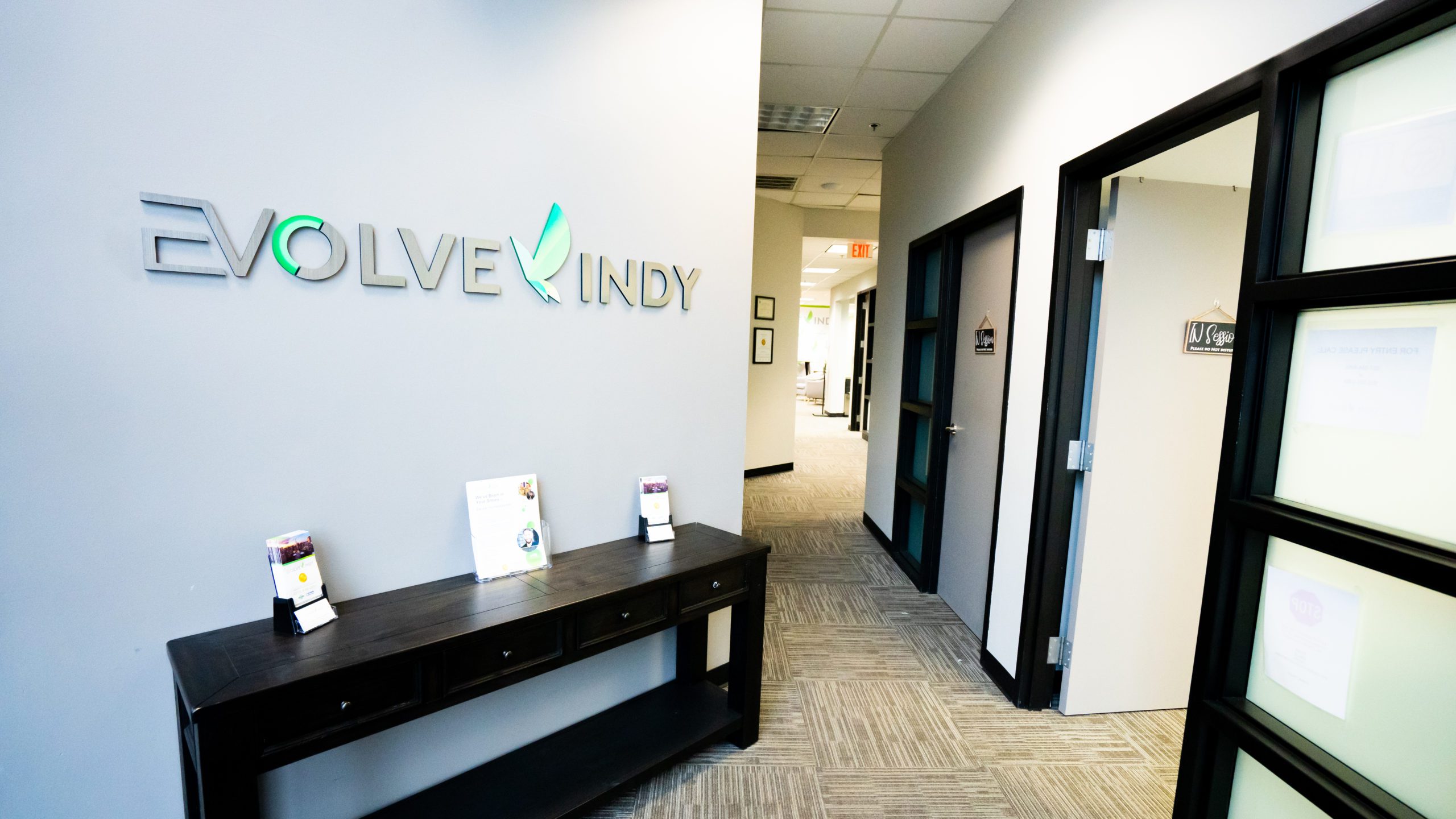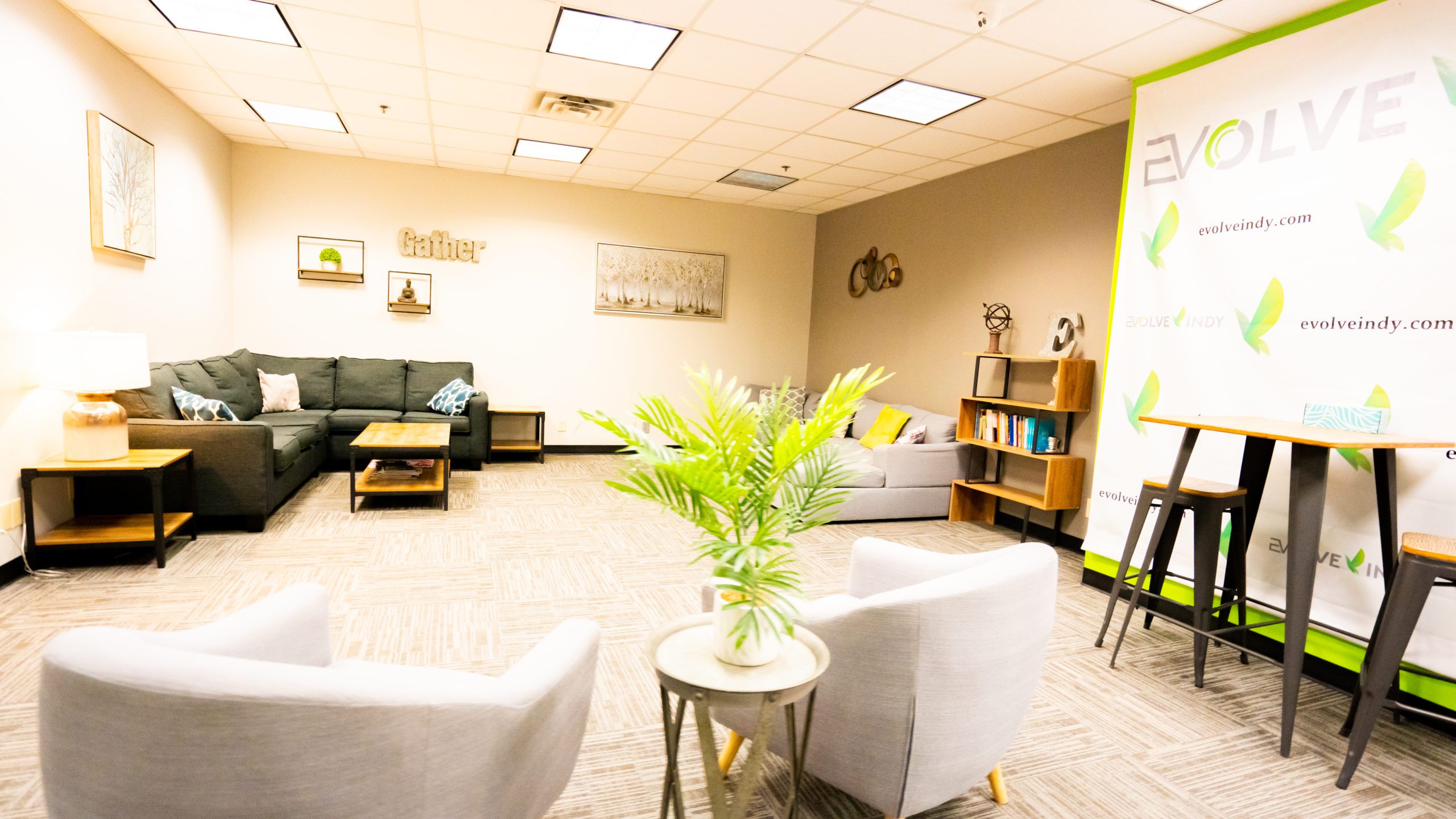 Discover Our Carefully Curated Environment
The environment of a rehabilitation facility matters. The positive and negative impacts of the surroundings in a recovery center can make or break the outcome of recovery. Designing a drug rehab facility near East St. Louis requires a thoughtful approach that prioritizes the needs of patients and staff.
Evolve Indy has taken many measures to provide an environment that caters to our staff and clientele. This results in a high success rate for long-term recovery. Here are some of the quality accommodations we provide at Evolve Indy.
We have designed our rehabilitation center to promote healing and recovery within a calming environment.

Thoughtful spaces that accommodate various therapeutic activities and support group sessions.

A layout that encourages movement and social interaction while maintaining privacy and safety.

Accessible and comfortable living spaces that feel like home and provide a safe place during a difficult time.

Thoughtful selection of materials, colors, and textures that are durable, low-maintenance, and promote a positive atmosphere.

Integration of natural elements such as plants and natural light for a restorative effect.

Incorporation of state-of-the-art technology to support treatment and monitoring.

Compliance with all applicable regulations and standards to ensure patient safety and well-being.

A culture purposely curated for understanding and caring support. Staff members who are in recovery, or love someone in recovery have been thoughtfully chosen to join our team for increased support and proof that recovery is possible.
Drug Addiction Treatment Center in East St. Louis
Individualized & Customized Addiction Treatment Programs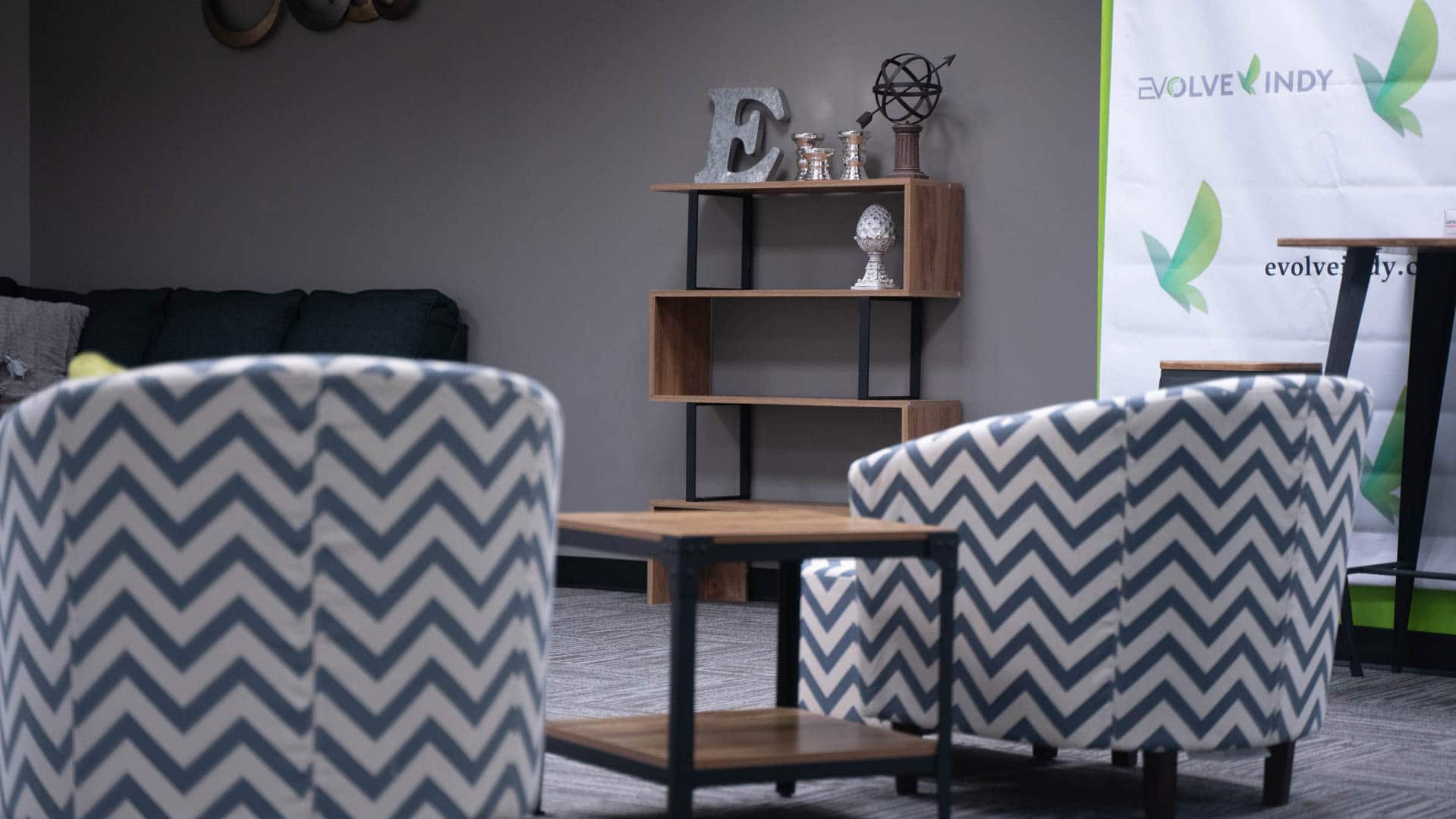 Partial Hospitalization
This model of care is comprehensive, enabling individuals to take back control of their lives and overcome addiction through a variety of evidence-based treatments.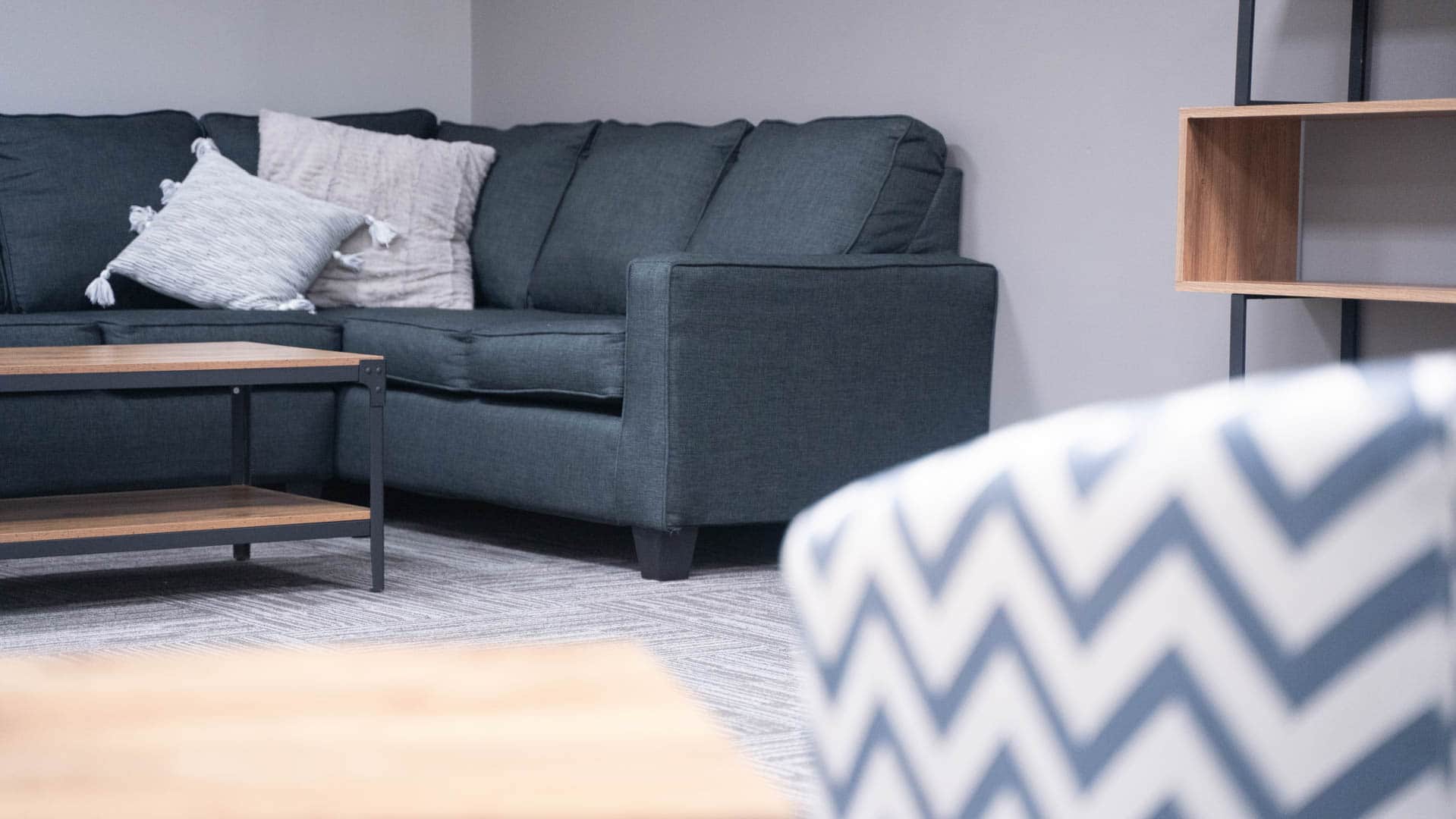 Intensive Outpatient
Our intensive outpatient program aids individuals struggling with drug and alcohol addiction in discovering a lasting journey to recovery, facilitated by ongoing, extended treatment.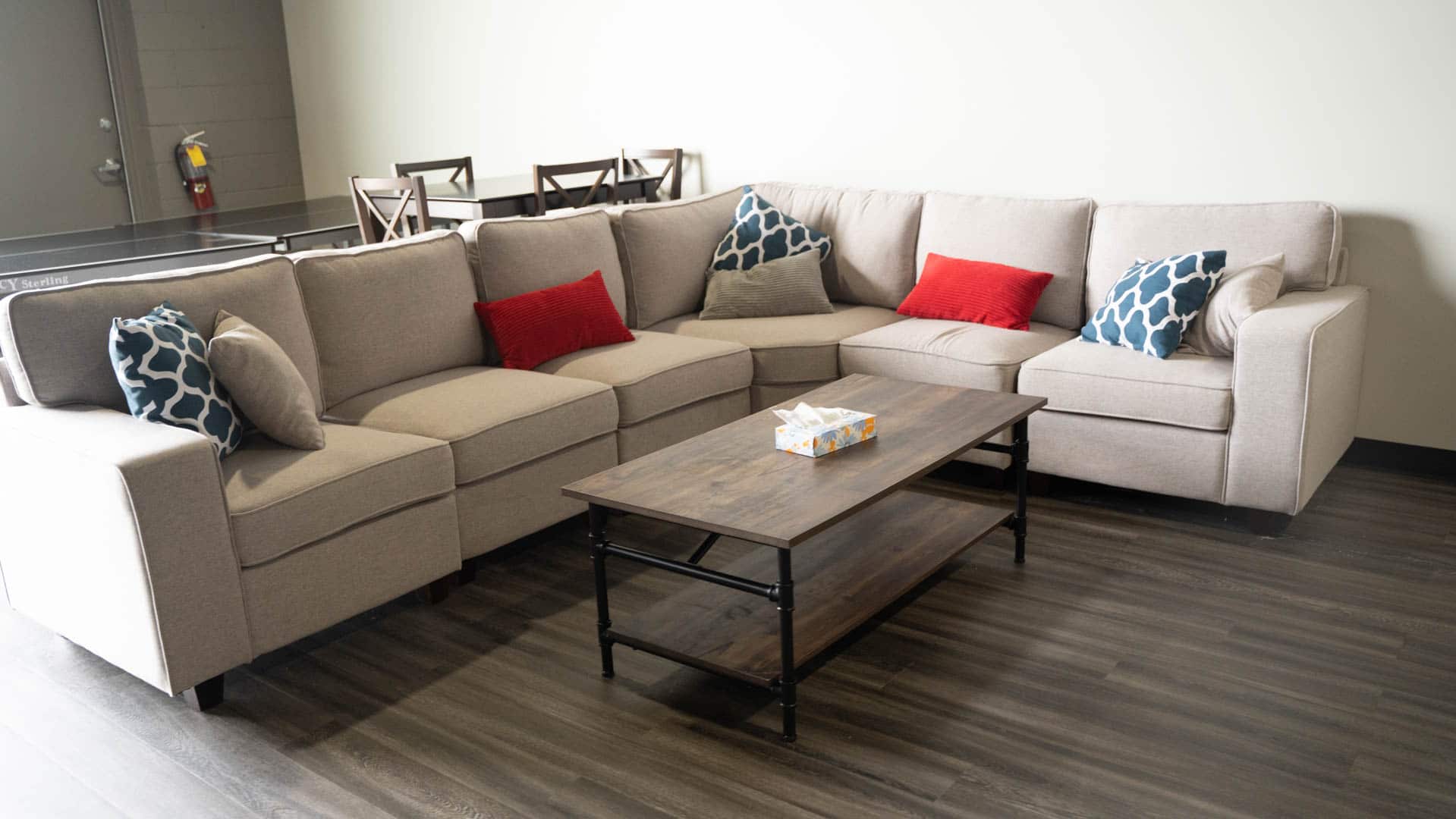 Outpatient Program
The outpatient program at Evolve Indy serves as a reduced intensity level of care, integrating the essential elements of our primary program with a more flexible approach.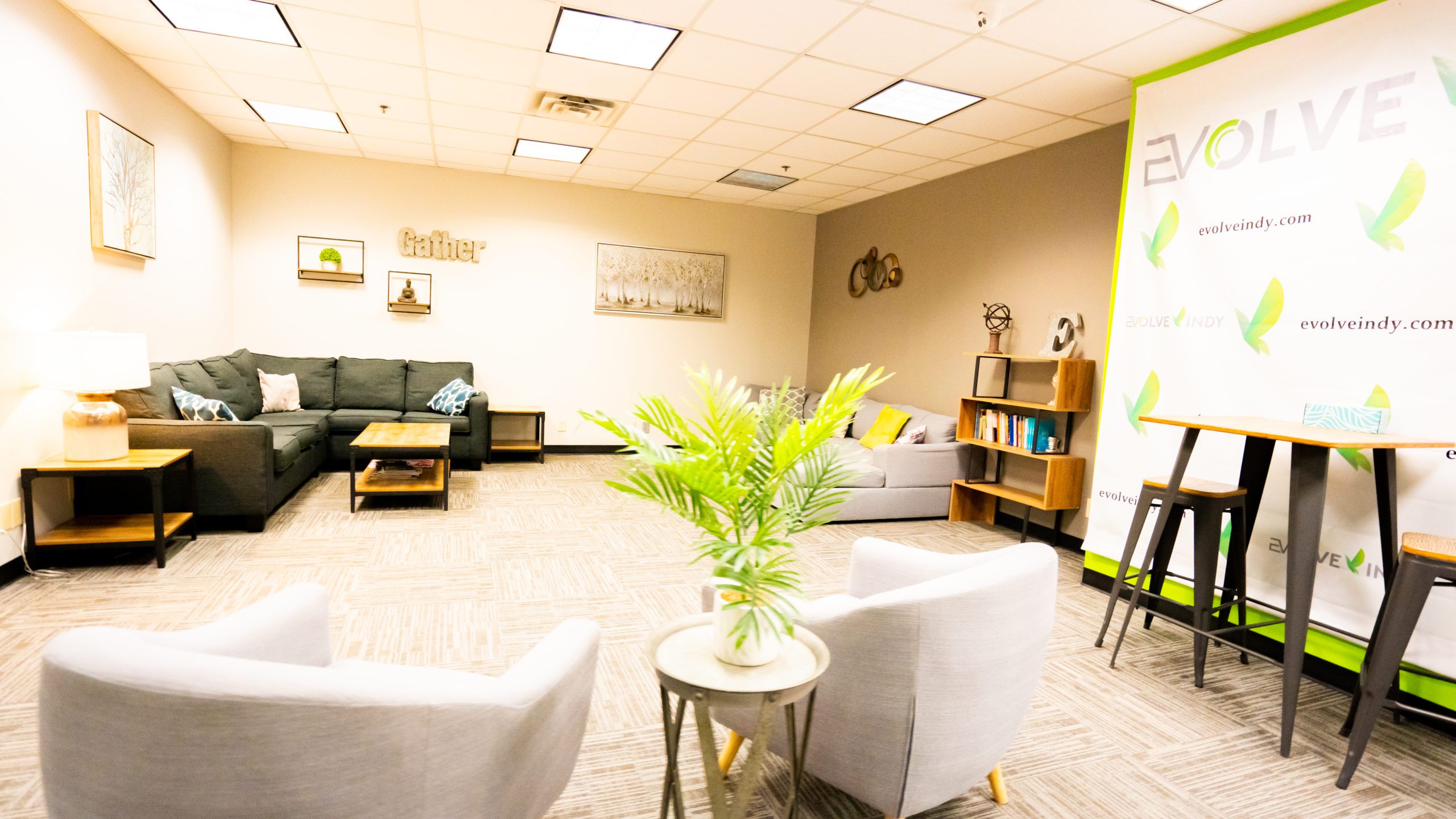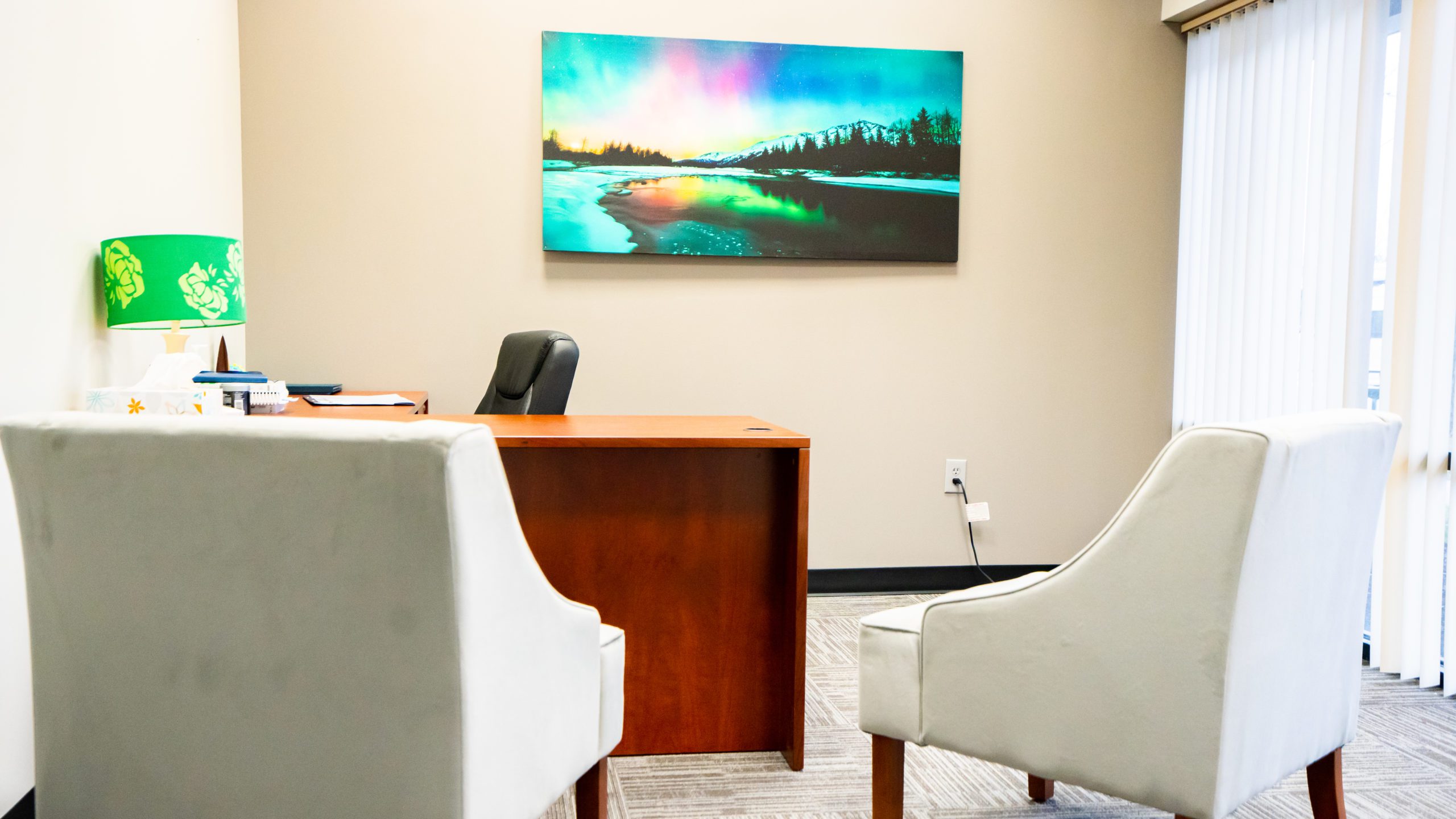 Why Choose Our Drug Rehab Near Noblesville, IN
Unfortunately, one of the main concerns that people have when looking into drug rehabs in Noblesville is the cost. Money can be a big factor in the program that you choose. Because of this, we would recommend that you contact your insurance program to see what coverage they offer; this will help you get a better understanding of what your financial responsibility will be.
You will want to decide if you would like to attend treatment closer or farther from home. There are pros and cons to both, so take time to think about what would be best for you and your recovery. Some find that having a little distance from home can help them focus on their recovery.
Next, we would recommend speaking with a professional to determine which level of care would be the best fit for you at this time. Professionals are knowledgeable about the care available to you and can help you determine if you need to attend a detox program, a residential treatment program, or an outpatient treatment program. 
A common recommendation would be to attend a detox program. Medically supervised detox programs are able to support and monitor you through this uncomfortable process. Substances such as alcohol and benzodiazepines can lead to health crises during the detox process. 
Inpatient rehab programs are often recommended for those who have a moderate to severe addiction. Programs vary in length from 30 to 90 days. If you are considering an inpatient treatment program, you will want to look at the treatment services, amenities, and alternative treatment options offered. This means checking that the treatment center uses evidence-based best practices, group therapy, individual therapy, specialized programming for additional concerns, has comfortable living arrangements, has additional amenities you can use, and alternative treatments such as creative arts.
Outpatient rehab programs typically include both group and individual therapy at a drug rehab center. Outpatient programs have a progression to them that follows you with the growth in your recovery. You may begin in an Intensive Outpatient Program (IOP), which includes frequent and long group sessions. Your treatment plan should adjust to reflect this as you move through your recovery. Outpatient treatment gives you a place to come for support with struggles and successes while beginning your recovery.
After-care programming may be available to individuals who completed an outpatient program successfully. These programs allow you to stay connected to the treatment center for support. After-care programs typically use group therapy as their primary approach.
If you find a treatment program that offers family programing, view that as a bonus! Your loved ones were affected by your addiction, and may need some support navigating the changes that come along with your recovery. Family programs are designed to help your loved ones learn about the disease concept of addiction, and how they can best support you in your recovery. Together, you can learn how to move forward.
Insurance Can Help Pay for Treatment

Evolve Indy works with most major insurance providers to ensure the lowest out-of-pocket
costs when you enter treatment at our facility.
Fill out the form to get a free consultation.
One of our caring treatment advisors will
contact you as soon as possible.
Get Help at Our Noblesville Rehab Center
Evolve Indy is located 30 minutes Southwest of Noblesville, in northern Indianapolis. Our program is designed to be tailored to you and your needs. Our staff has years of experience in treating addiction and using a variety of treatment approaches. Because of this, we are able to provide you with the best possible care available. 
We are an LGBTQ+ friendly environment that strongly believes that everyone deserves compassionate and supportive care for their addiction and mental health struggles. We are experienced in working with a variety of mental health conditions. Our staff is equipped to work with individuals struggling with alcohol, opioids, cocaine, and heroin addictions.
We offer several programs, including a Partial Hospitalization Program (PHP), Intensive Outpatient Program (IOP), Outpatient Treatment (OP), and Family Programming. 
Our PHP program would allow you to avoid overnight stays at the treatment center, and return home at the end of programming. Our program is designed to help you address the negative thought patterns you have, learn to regulate your emotions in a healthy way, and learn new coping skills. We provide group, individual, and family therapy with this program.
IOP programs are ideal for individuals who have what is considered a "mild" addiction and who have a home environment supportive of recovery. With this program, you will come to our drug rehab near Noblesville during the day and return home. If you do not have a safe and supportive home environment, we do offer community housing that you can utilize. With our IOP program, you will be in 15 -25 hours of group therapy and one hour of individual therapy per week.
Similar to our IOP program, you have the opportunity to utilize our community housing while you are in our Outpatient Program. Your treatment plan will reflect your personal needs and will continue to be changed as you progress through your recovery. We offer group sessions, individual sessions, and continued medical evaluation if needed. The length of OP will depend on your specific needs, as it can potentially be one year. 
Our family program is a great resource for your loved ones. Family programing will build on what you work on in your own addiction treatment by focusing on the relationships within your family. This program focuses on educating your loved ones and helping you find out what moving forward looks like for all of you.
If you are in need of treatment and are seeking a way out of addiction, you should stop reading and call Evolve Indy. They will provide you with all the necessary tools to get you ready to become the best version of yourself all while staying in comfortable accommodations. The staff is top notch and the therapists are wonderful. Everyone will go out of their way to make sure you feel supported.
Evolve Indy is a true blessing.
For anyone needing help with substance abuse, if you are tired of living the way your living. If you want something different, a new way of living. This is the place for you. The therapy is wonderful. The staff is amazing. The group settings are great! The facilities are top of the line. This place will give you a very comfortable environment to change and to grow if that is what you seek. I would highly recommend Evolve Indy if you want to change your life. Take it from me and my own experience, this place can totally change your life and absolutely make you a better person. Put the work in with this program and you will be amazed.
I had a great time at Evolve. The people there truly care about you mentally, physically, and spiritually. I've dealt with health issues and they took me multiple times to doctors and specialists. The house is amazing. The Sunday outings are a great way to have some fun while in treatment. The classes are engaging and helps with underlying issues. I've been to other treatment centers and this one by far is dedicated to your success.
Evolve was seamless for me from living in a treatment facility -to- transitioning back to the real world. Their staff is experienced, knowledgeable and genuinely care. If you're willing to do yourself a favor by leaving your old life, give Evolve some serious thought.
I loved being here. I came from one 30 day treatment to this one. It helped me and my family really get thru some of the stuff we had been hiding and not dealing with it. We now have a better relationship and now I can have a opportunity to get my kids back home with me. Best decision I ever made was continuing my recovery with this place. Thank you for helping me.
This place has been a saving Grace for me. I came from inpatient to to Evolve and it was the perfect next step for me. I have gained so many skills and tips to help me along my journey. I would recommend this facility to any struggling addict or alcoholic.
Don't Let Addiction Win. Start Your Recovery, Now.