Drug Rehab Center​ in Cincinnati, OH
Finding the right drug rehab center can be a daunting task, but luckily for residents in Cincinnati, OH Evolve Indy is here to help. We not only provide a safe and supportive environment for those seeking recovery, but also offer a variety of services and programs tailored to each individual's specific needs. Through a blend of evidence-based treatments, holistic therapies, and peer support networks, you'll gain the skills and confidence you need to live a fulfilling life in sobriety. Contact Evolve Indy today.
According to the Ohio state government website, in 2020, 4,991 people died of an overdose. This is an increase of nearly 1,000 people more than in 2019. In May 2020, Ohio saw the largest recorded number in the state, 557 deaths. 
According to WalletHub and their annual Drug Use by State assessment, Ohio is listed as number five in the country for overdose related deaths, behind West Virginia, Delaware, Maryland, and Pennsylvania. But, based on the rehab availability, it is ranked 30th of 51.
Hamilton County, Ohio is an addiction hotspot, with the total number of deaths in 2020 at 432 individuals. This number seems small after the 3,867 doses of Naloxone that were administered countywide in overdose situations. 
Addiction is ruining lives in Cincinnati, Ohio.
In 2020 there were 33,695 drug arrests and 12,317 DUI arrests made in the state of Ohio. In Hamilton county, there were 117 drug violations identified by the Ohio State Patrol and numerous other arrests made by county wide law enforcement.
In 2020, there were 16,595 children identified by Policy Matters Ohio as being in kinship care or family foster. A majority of those children were removed from their home due to substance abuse and placed with a sober family member.
The evidence of substance abuse in Cincinnati, Ohio is absolutely devastating.
But, there is hope for change with advanced addiction treatment becoming widely available.
Ohio's response to the increased evidence of substance abuse in their state can be seen through the state and local mental health, rehabilitation, and health initiatives. It is through these outreach programs that Ohio is attempting to support their residents. 
According to that same WalletHub Drug Abuse by State article, Ohio ranked 39th of 51 in "Drug Health Issues & Rehab" in 2020. This indicates that there is help available in Ohio for those that seek it. 
But, when looking for help, what exactly should you be looking for in addiction treatment?
What to Look For in a Drug Rehab Facility​​
Choosing the correct rehabilitation facility could mean the difference between rehabilitation and relapse. When looking into an addiction treatment center, it is important to consider the following factors: treatment style, programs available, experience, testimonials, price, and location. These factors should be non-negotiable when it comes to selecting rehab treatment for either yourself or a loved one.
The first factor you want to look at when determining a drug rehab center is what type of treatments they offer. Some locations only offer outpatient care, while others have residential care. Also, if you're looking into residential care, is this a short-term detox or a long-term assisted living situation?  This ties into the second factor. The second factor has to do with selecting a facility that caters to your specific type of addiction. Addiction is a unique disease requiring unique support. Find a facility that specializes in the type of substance you are struggling with. After finding a location that caters to those specifics, it is important to look at the testimonials.
The testimonials provided by the rehab alumni will give you an insight into what they value as their strengths and you can determine if those are the same things that you are looking for. It is also important to read through both the positive and negative reviews, not on the facility's website. These reviews come from the happiest and most upset individuals that have experienced this system. They will highlight things you have not thought of and might bring to light a sensitive issue for you. It is important to remember, however, that these are other people's experiences and not yours. Rehab will be different for everyone. Just like addiction is unique to everyone, so are their experiences that led them to the point of writing the review.
Price and location often dictate the importance of the rest of the factors. No one wants to feel the overwhelming crush of stress or money worries or travel worries when also working to transition into a sober lifestyle. Additional stressors are often associated with relapse, so thinking about the price and the location of the addiction treatment center are important. When looking at the price for rehab, consider whether the location accepts your insurance and/or offers private payment options. A facility that accepts insurance will also often offer payment plans to repay anything not covered by insurance. Private payment options often include payment plans, so that the upfront cost is not too much.
And finally, the location of the facility you choose should be right for the type of treatment you are seeking. For example, if you are looking for inpatient residential care, it is often acceptable to look a little further away from home to find a facility that works for you because traveling back and forth won't be a burden. However, if you are looking for intensive outpatient care, a location that is hours away, or even further than you can get transportation to, will cause additional stress. Find a drug addiction treatment center that will meet the needs of the style of treatment you are looking for.
But, narrowing down and finding a location like this can be difficult. That's why we did the hard work for you.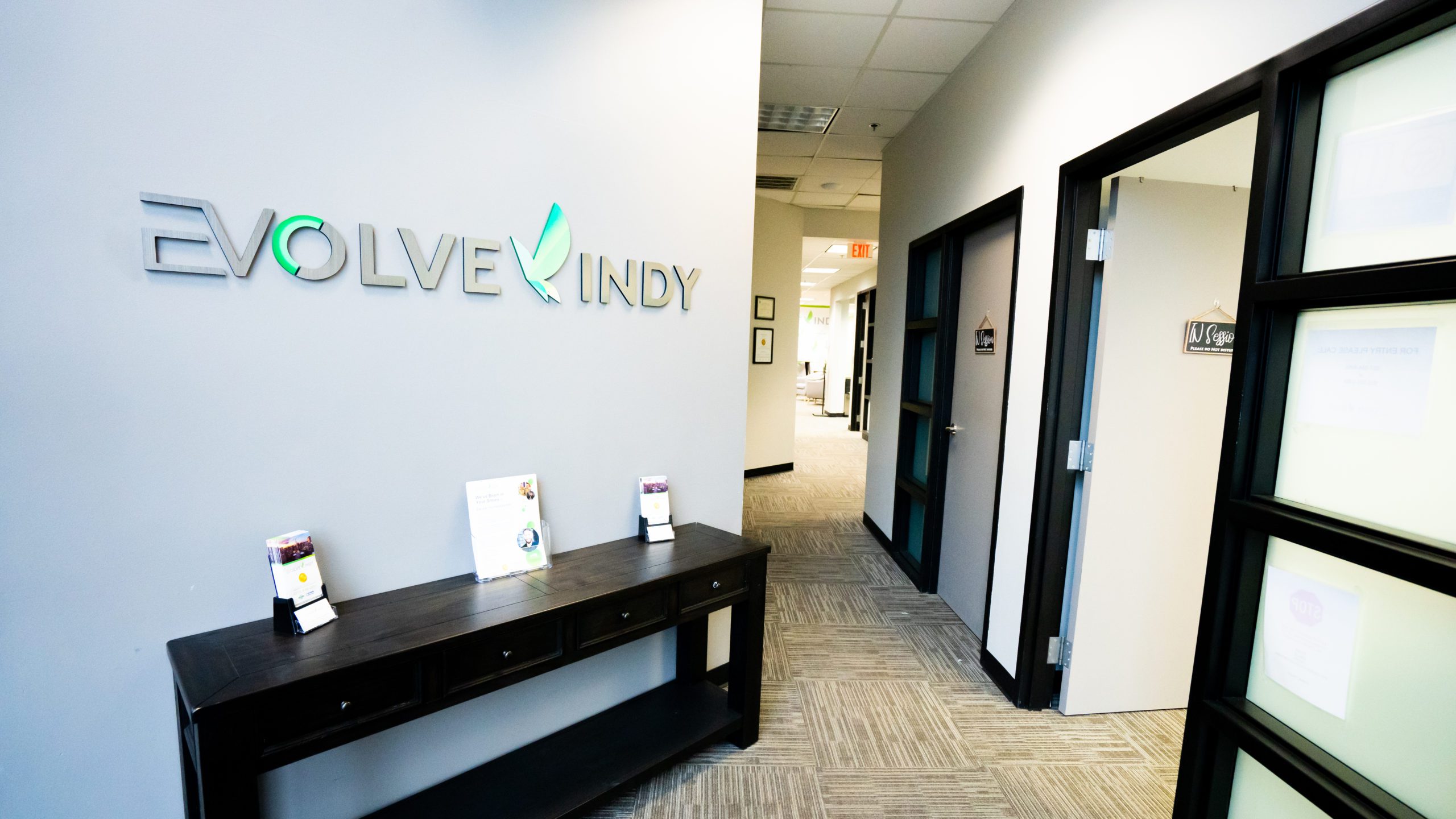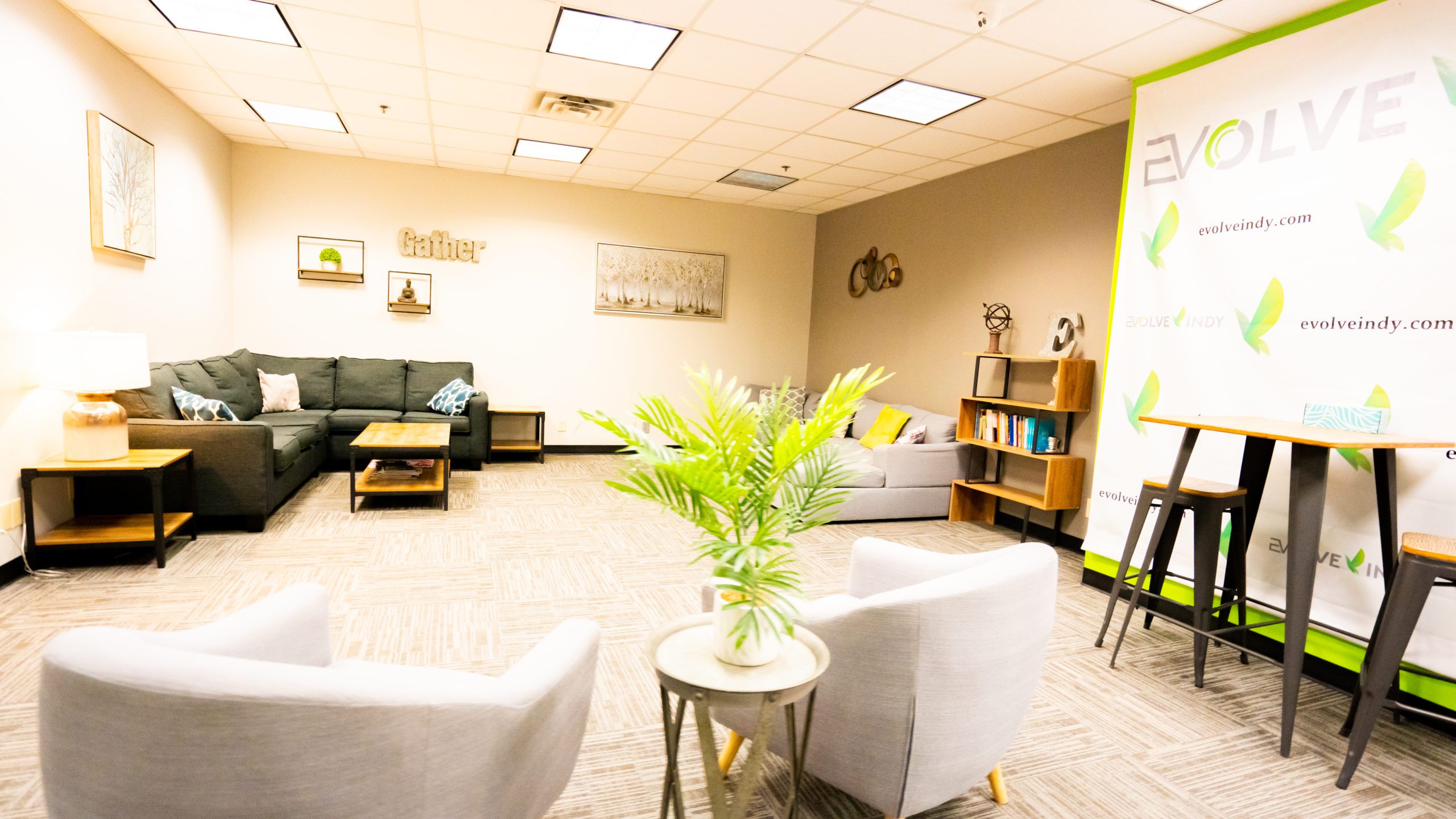 Discover Our Carefully Curated Environment
The environment of a rehabilitation facility matters. The positive and negative impacts of the surroundings in a recovery center can make or break the outcome of recovery. Designing a drug rehab facility near East St. Louis requires a thoughtful approach that prioritizes the needs of patients and staff.
Evolve Indy has taken many measures to provide an environment that caters to our staff and clientele. This results in a high success rate for long-term recovery. Here are some of the quality accommodations we provide at Evolve Indy.
We have designed our rehabilitation center to promote healing and recovery within a calming environment.

Thoughtful spaces that accommodate various therapeutic activities and support group sessions.

A layout that encourages movement and social interaction while maintaining privacy and safety.

Accessible and comfortable living spaces that feel like home and provide a safe place during a difficult time.

Thoughtful selection of materials, colors, and textures that are durable, low-maintenance, and promote a positive atmosphere.

Integration of natural elements such as plants and natural light for a restorative effect.

Incorporation of state-of-the-art technology to support treatment and monitoring.

Compliance with all applicable regulations and standards to ensure patient safety and well-being.

A culture purposely curated for understanding and caring support. Staff members who are in recovery, or love someone in recovery have been thoughtfully chosen to join our team for increased support and proof that recovery is possible.
Drug Addiction Treatment Center in East St. Louis
Individualized & Customized Addiction Treatment Programs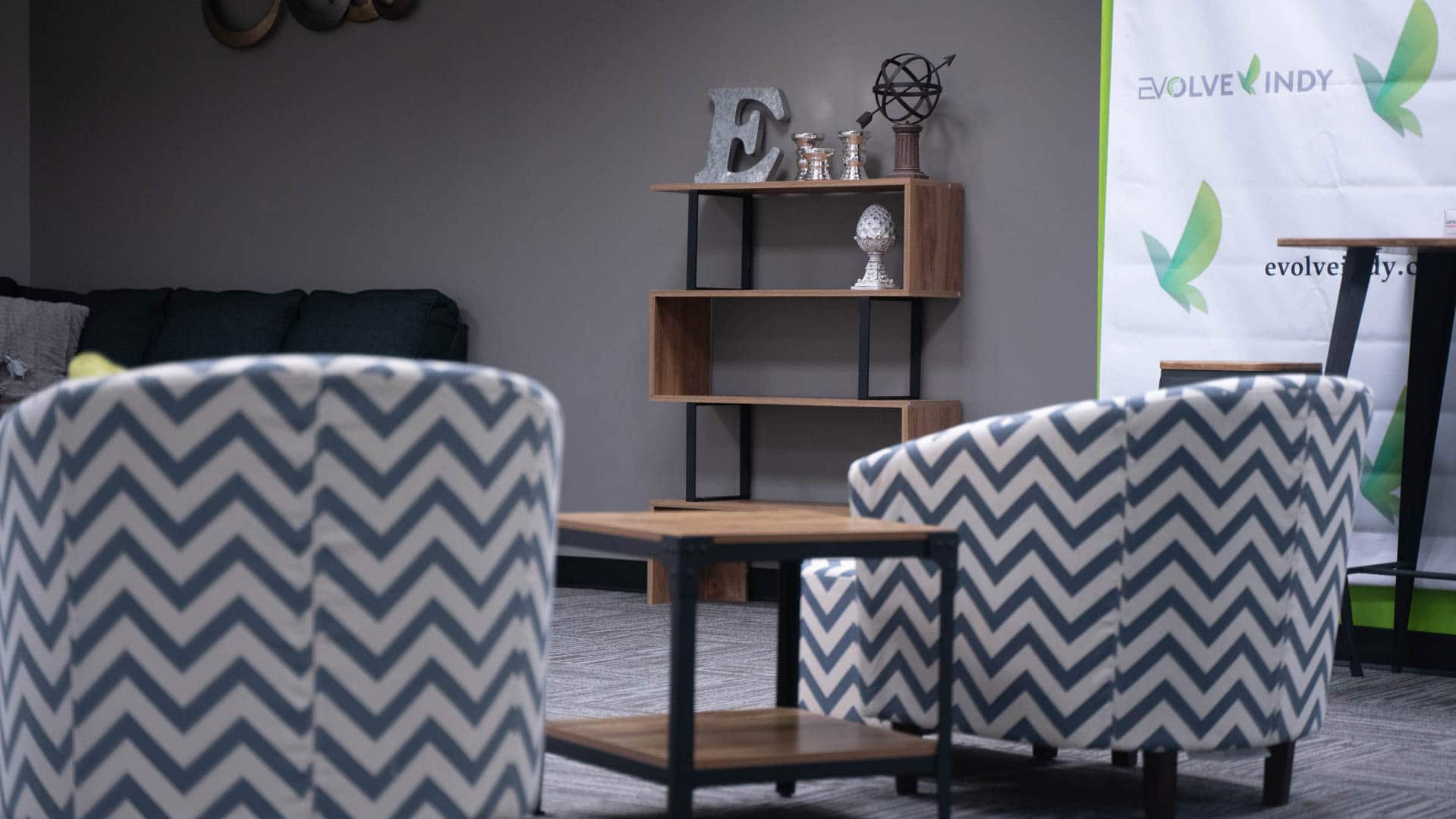 Partial Hospitalization
This model of care is comprehensive, enabling individuals to take back control of their lives and overcome addiction through a variety of evidence-based treatments.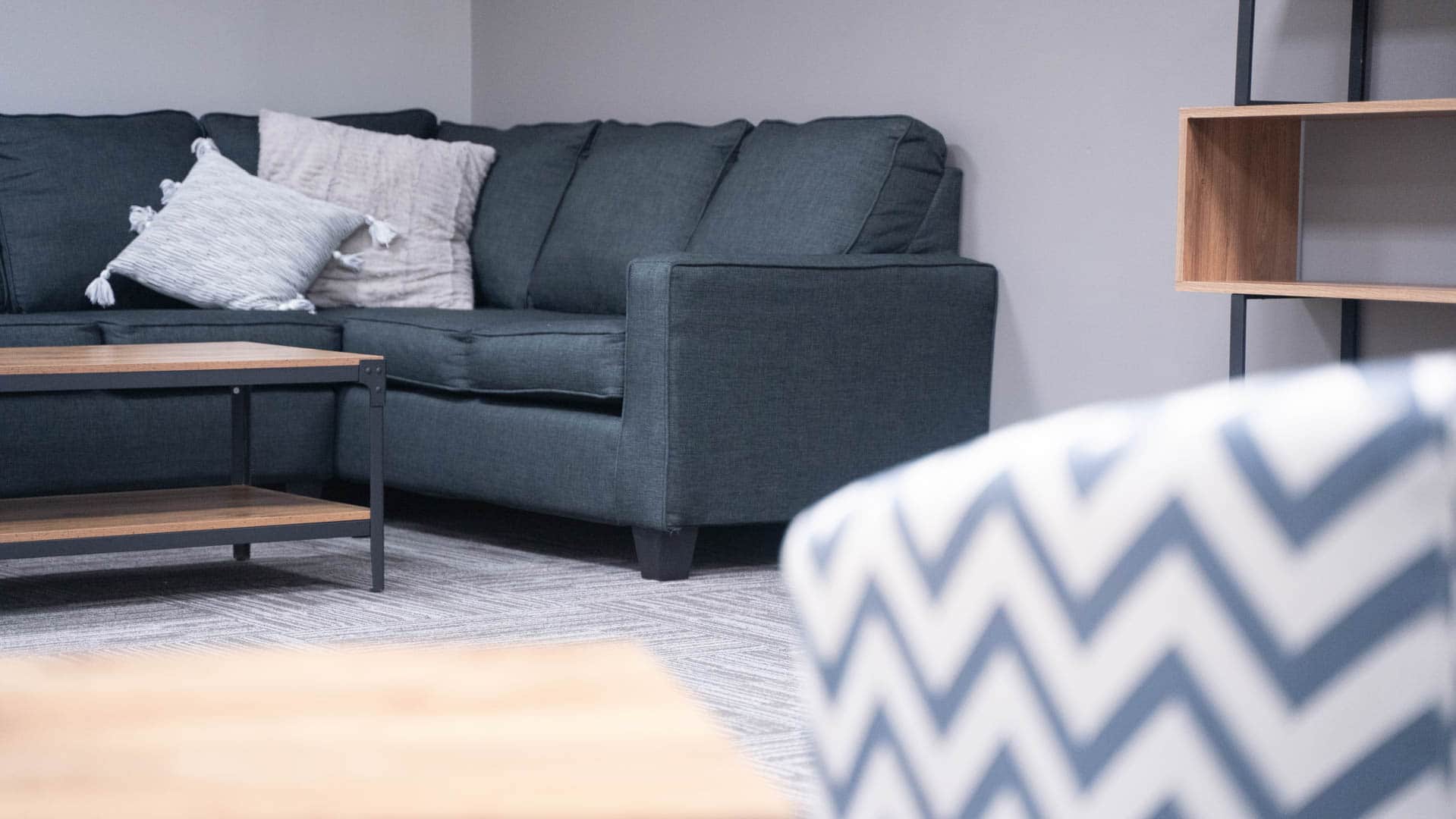 Intensive Outpatient
Our intensive outpatient program aids individuals struggling with drug and alcohol addiction in discovering a lasting journey to recovery, facilitated by ongoing, extended treatment.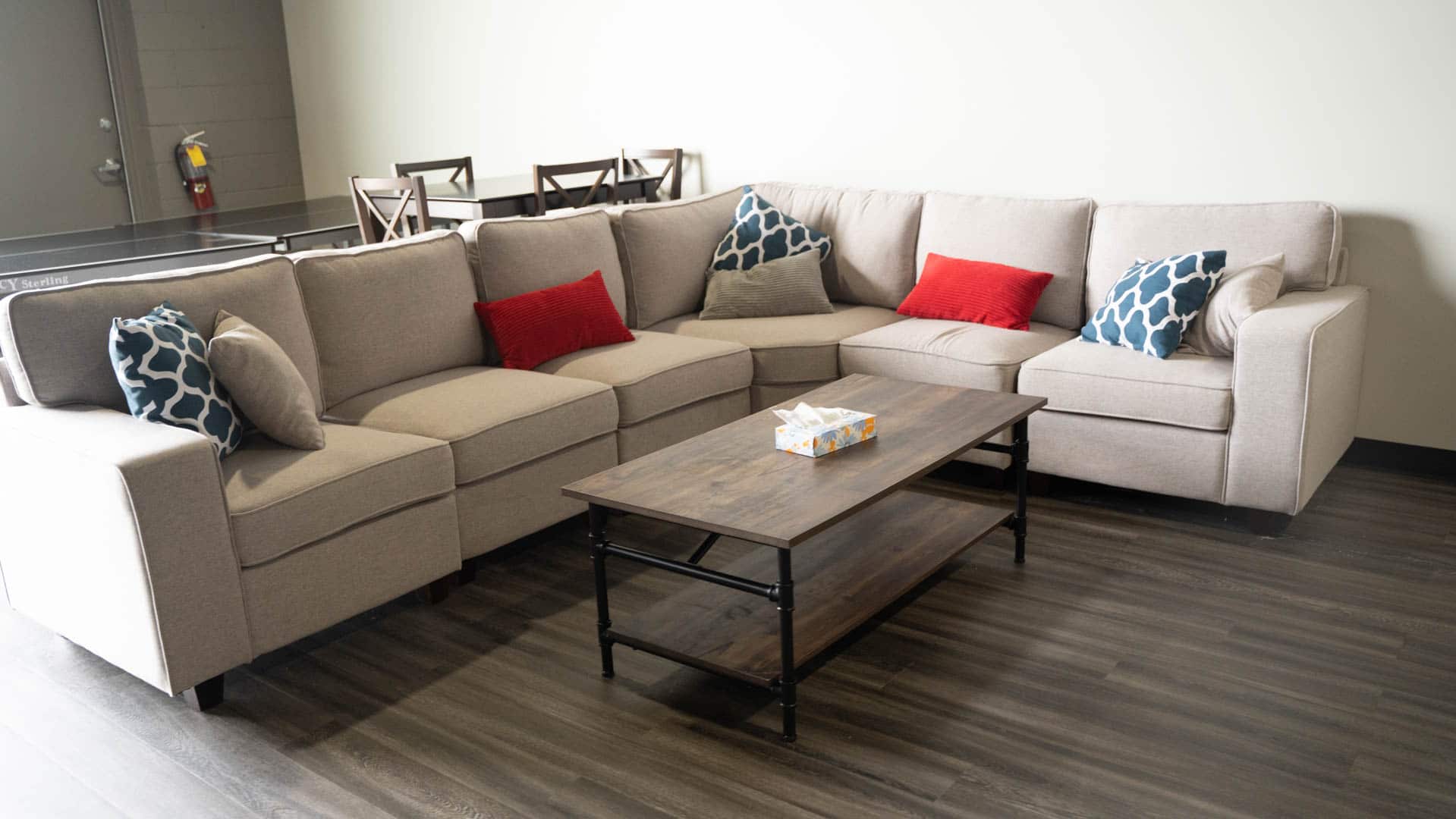 Outpatient Program
The outpatient program at Evolve Indy serves as a reduced intensity level of care, integrating the essential elements of our primary program with a more flexible approach.
What Makes Evolve Indy Unique?​
Our premier substance abuse treatment center is located in Indianapolis, Indiana, just over 100 miles northwest of Cincinnati. Our facility, Evolve Indy, has been part of the Indianapolis community for the last several years offering individualized treatment plans and a multitude of treatment styles to help you battle addiction.
We know that addiction is a unique disorder that impacts not only the individual, but the family, and the community. This is why we offer family therapies in addition to individualized and group therapies to support the hard work you are doing. 
Our facilities are equipped to deal with multiple types of substance abuse. Including, but not limited to alcohol, opioids, stimulants, and sedatives. Our treatment programs at Evolve Indy are designed to support the specific needs of our clients. At this time, we offer over 15 different treatment programs, including a 12-step program, relapse recovery, and faith and non-faith-based therapies. 
Our facility in Indianapolis offers intensive outpatient care and short-term and long-term residential options. Through these varied options, our clients can experience our unique combination of evidence-based therapies such as, trauma-focused therapy and intervention with our spiritual healing therapies like art and music therapy. 
Our providers and clinicians have 20 years experience dealing with substance abuse in the greater Cincinnati area. Our 100+ clients can attest to the positive impact we've had on their lives. 
At our intensive outpatient program in Indiana, we don't want the payment to be the factor that scares you away from our facility. That is why we accept multiple large and small insurances and offer several private payment options so that price isn't a concern.
Insurance Can Help Pay for Treatment

Evolve Indy works with most major insurance providers to ensure the lowest out-of-pocket
costs when you enter treatment at our facility.
Fill out the form to get a free consultation.
One of our caring treatment advisors will
contact you as soon as possible.
Get Help at Our Cincinnati Drug Rehab​​
Our unique approach to addiction treatment could be the difference between your relapse and recovery. At our drug rehab in Indiana, we know the decision to get help for addiction is not an easy one. We want to support you through 24-hour support and an individualized treatment plan to help you reach success. 
Our Outpatient, Intensive Outpatient, and Partial-Day Treatment programs could be the support you need to make a change in your life. 
The local doctors and clinicians here at Evolve Indy are familiar with the struggles surrounding the greater Indianapolis area and are ready to support you through the individual, group, and family therapies.
Let us support you through addiction treatment and the rehabilitation process so that you can live a happier, healthier, sober life.
If you are in need of treatment and are seeking a way out of addiction, you should stop reading and call Evolve Indy. They will provide you with all the necessary tools to get you ready to become the best version of yourself all while staying in comfortable accommodations. The staff is top notch and the therapists are wonderful. Everyone will go out of their way to make sure you feel supported.
Evolve Indy is a true blessing.
For anyone needing help with substance abuse, if you are tired of living the way your living. If you want something different, a new way of living. This is the place for you. The therapy is wonderful. The staff is amazing. The group settings are great! The facilities are top of the line. This place will give you a very comfortable environment to change and to grow if that is what you seek. I would highly recommend Evolve Indy if you want to change your life. Take it from me and my own experience, this place can totally change your life and absolutely make you a better person. Put the work in with this program and you will be amazed.
I had a great time at Evolve. The people there truly care about you mentally, physically, and spiritually. I've dealt with health issues and they took me multiple times to doctors and specialists. The house is amazing. The Sunday outings are a great way to have some fun while in treatment. The classes are engaging and helps with underlying issues. I've been to other treatment centers and this one by far is dedicated to your success.
Evolve was seamless for me from living in a treatment facility -to- transitioning back to the real world. Their staff is experienced, knowledgeable and genuinely care. If you're willing to do yourself a favor by leaving your old life, give Evolve some serious thought.
I loved being here. I came from one 30 day treatment to this one. It helped me and my family really get thru some of the stuff we had been hiding and not dealing with it. We now have a better relationship and now I can have a opportunity to get my kids back home with me. Best decision I ever made was continuing my recovery with this place. Thank you for helping me.
This place has been a saving Grace for me. I came from inpatient to to Evolve and it was the perfect next step for me. I have gained so many skills and tips to help me along my journey. I would recommend this facility to any struggling addict or alcoholic.
Don't Let Addiction Win. Start Your Recovery, Now.