Understanding Addiction In Kentucky
Kentucky has been grappling with addiction for years, with opioid addiction being a particularly serious issue. Kentucky has one of the highest rates of drug overdose deaths in the country. Prescription opioids are a major contributor to the state's addiction problem. Efforts are underway to increase access to addiction treatment, including medication-assisted treatment. However, stigma and lack of understanding about addiction can be major barriers to seeking treatment. Addressing addiction requires a multi-faceted approach that includes prevention, treatment, and recovery support. Many do not understand the effort needed to recover from addiction.
It's important to seek help if you, or someone you know, are struggling with addiction. There are resources available, including treatment programs and support groups, that can help individuals overcome addiction and lead healthier, happier lives.
What Should I Look For In A Rehabilitation Center?
Factors to Consider when Choosing a Drug Rehabilitation Center Near Kentucky
When seeking drug rehabilitation services, it is important to take into account several crucial factors that could make a significant difference in your or your loved one's recovery process. Consider the type of treatments offered, experience with specific addictions, recommendations, location, and pricing. Remember, every addiction is unique and requires a personalized approach to treatment for the best results. Tailored treatment plans lead to higher rates of long-term recovery, so it is essential to address individual needs throughout the entire treatment process.
Kentucky Addiction Statistics
According to the National White House Archives, 7.01 percent of Kentucky residents reported using illicit drugs in the past month. The national average was 8.82 percent. Additionally, 3.42 percent of Kentucky residents reported using an illicit drug other than marijuana in the past month (the national average was 3.6 percent).
Kentucky has one of the highest drug overdose death rates in the country.

In 2019, there were over 1,300 overdose deaths in Kentucky.

Opioids, including prescription opioids and heroin, are the most common drugs involved in overdose deaths in Kentucky.

Methamphetamine use has also increased in recent years, leading to more addiction and overdose deaths.

The COVID-19 pandemic has worsened the addiction crisis in Kentucky and across the country, with increased stress and isolation leading to more substance abuse.
Andy Beshear released the 2022 Overdose Fatality Report stating that 2,135 Kentuckians lost their lives to a drug overdose last year. Any life lost to an overdose is a tragedy. The disease of addiction is taking over the state of Kentucky.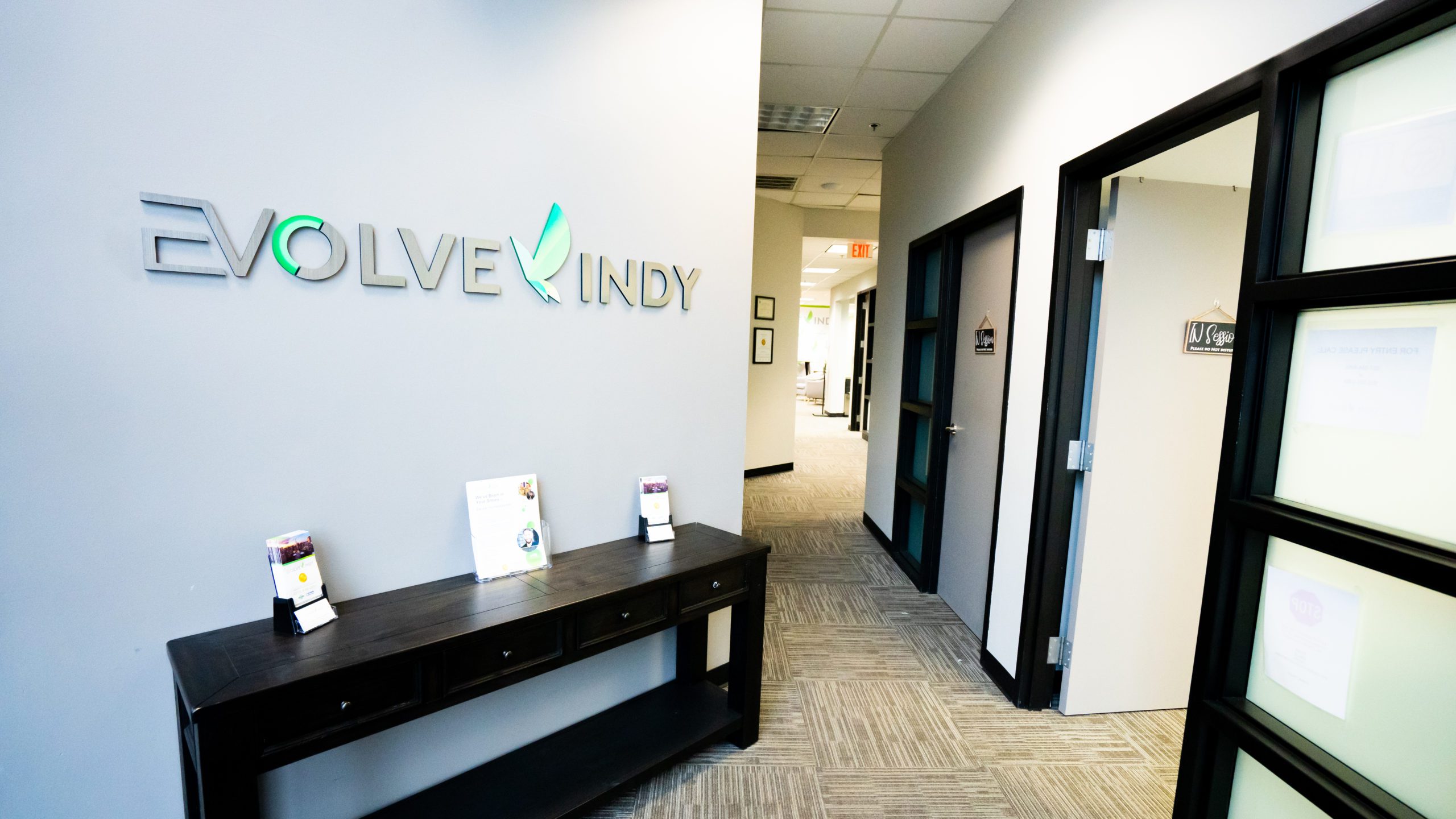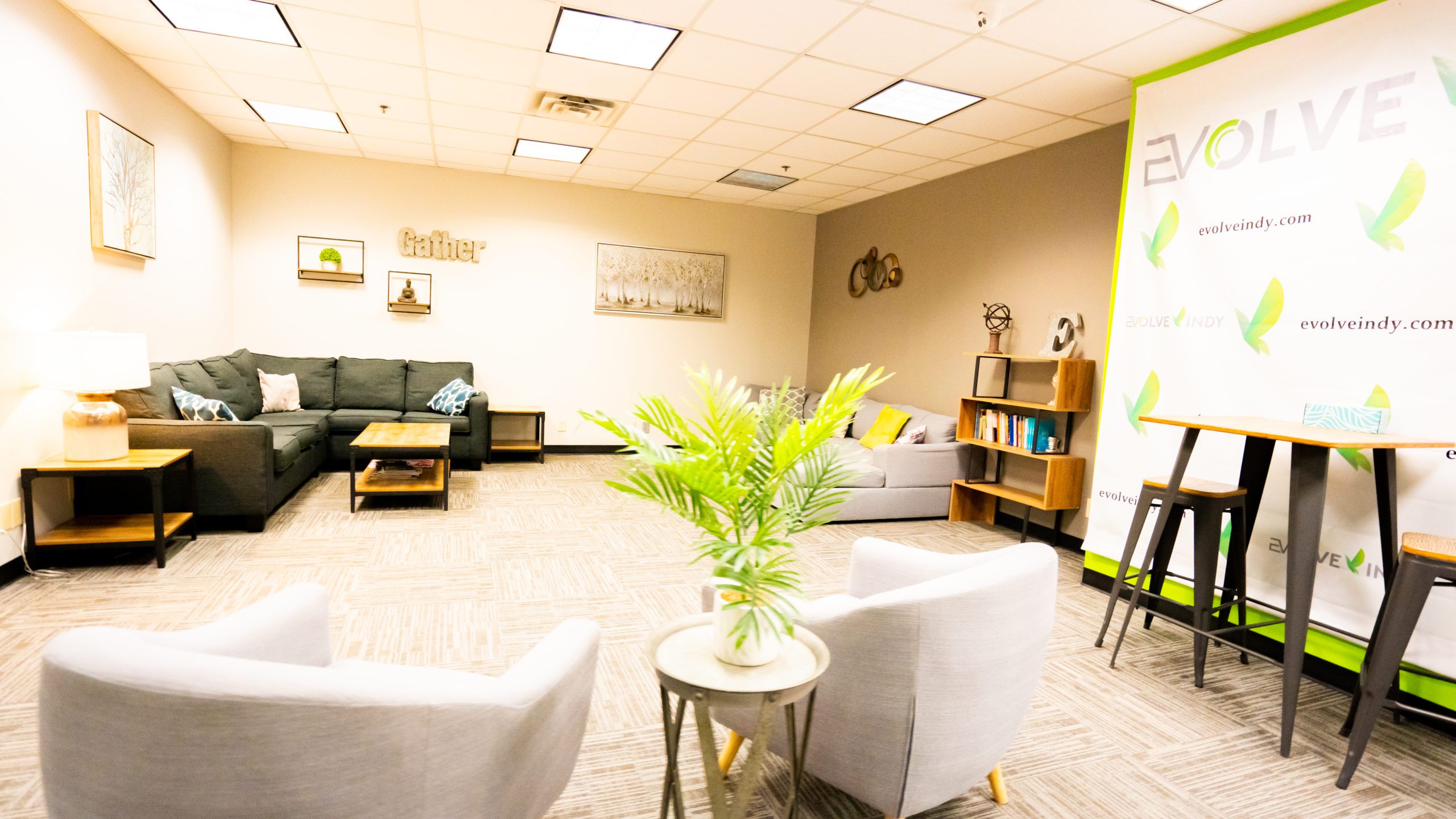 Discover Our Carefully Curated Environment
The environment of a rehabilitation facility matters. The positive and negative impacts of the surroundings in a recovery center can make or break the outcome of recovery. Designing a drug rehab facility near East St. Louis requires a thoughtful approach that prioritizes the needs of patients and staff.
Evolve Indy has taken many measures to provide an environment that caters to our staff and clientele. This results in a high success rate for long-term recovery. Here are some of the quality accommodations we provide at Evolve Indy.
We have designed our rehabilitation center to promote healing and recovery within a calming environment.

Thoughtful spaces that accommodate various therapeutic activities and support group sessions.

A layout that encourages movement and social interaction while maintaining privacy and safety.

Accessible and comfortable living spaces that feel like home and provide a safe place during a difficult time.

Thoughtful selection of materials, colors, and textures that are durable, low-maintenance, and promote a positive atmosphere.

Integration of natural elements such as plants and natural light for a restorative effect.

Incorporation of state-of-the-art technology to support treatment and monitoring.

Compliance with all applicable regulations and standards to ensure patient safety and well-being.

A culture purposely curated for understanding and caring support. Staff members who are in recovery, or love someone in recovery have been thoughtfully chosen to join our team for increased support and proof that recovery is possible.
Drug Addiction Treatment Center in East St. Louis
Individualized & Customized Addiction Treatment Programs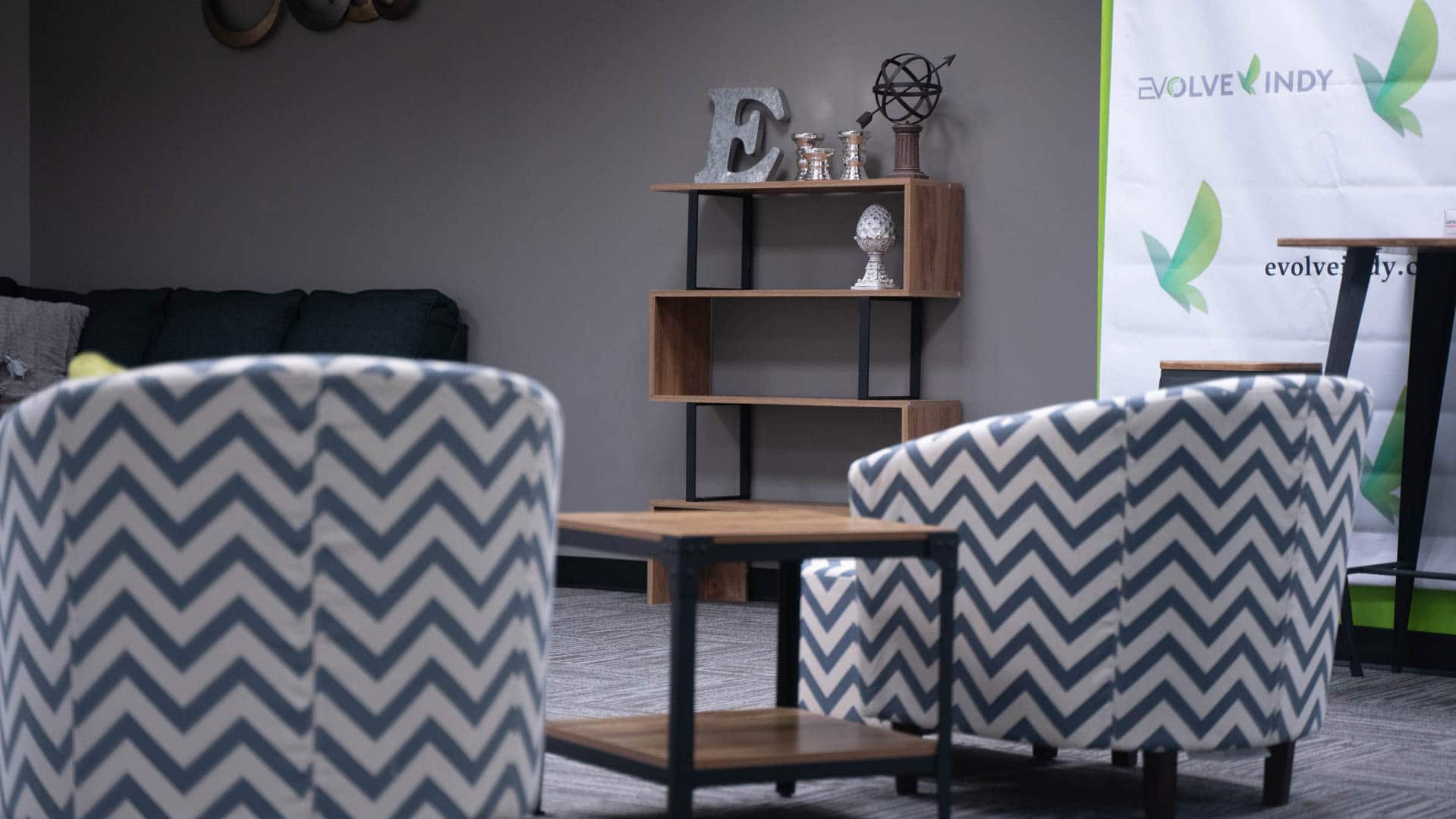 Partial Hospitalization
This model of care is comprehensive, enabling individuals to take back control of their lives and overcome addiction through a variety of evidence-based treatments.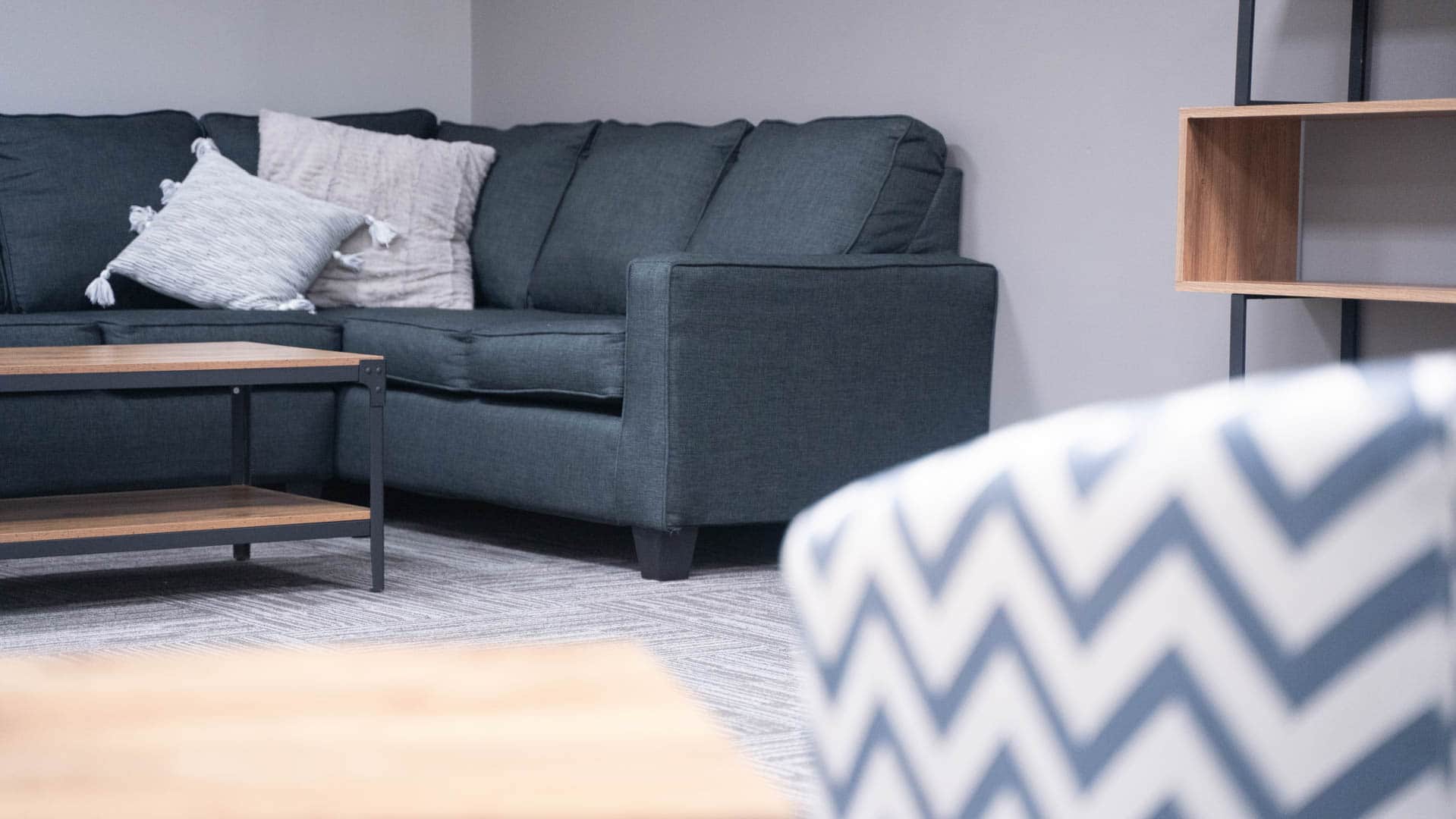 Intensive Outpatient
Our intensive outpatient program aids individuals struggling with drug and alcohol addiction in discovering a lasting journey to recovery, facilitated by ongoing, extended treatment.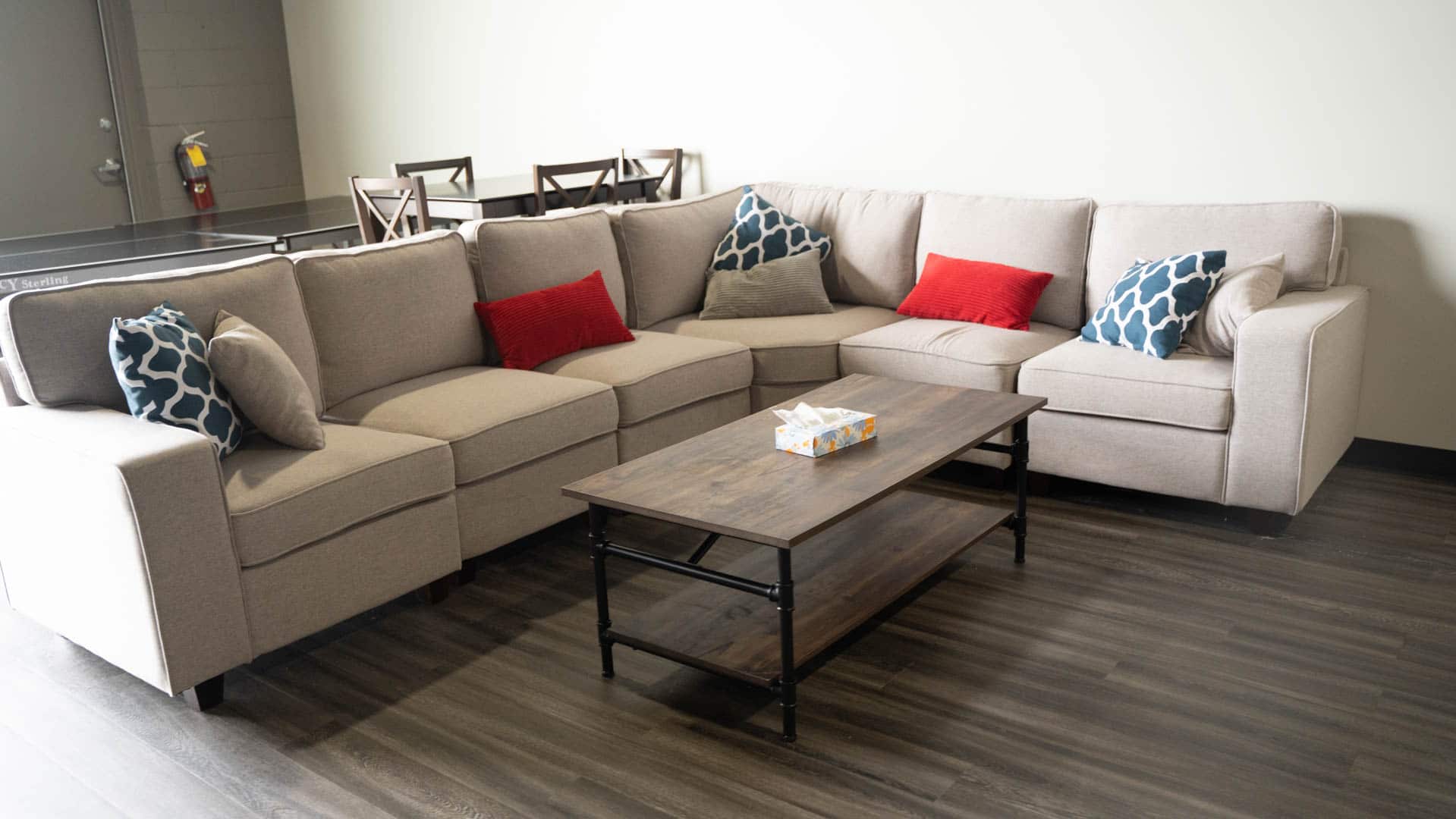 Outpatient Program
The outpatient program at Evolve Indy serves as a reduced intensity level of care, integrating the essential elements of our primary program with a more flexible approach.
If you are in need of treatment and are seeking a way out of addiction, you should stop reading and call Evolve Indy. They will provide you with all the necessary tools to get you ready to become the best version of yourself all while staying in comfortable accommodations. The staff is top notch and the therapists are wonderful. Everyone will go out of their way to make sure you feel supported.
Evolve Indy is a true blessing.
For anyone needing help with substance abuse, if you are tired of living the way your living. If you want something different, a new way of living. This is the place for you. The therapy is wonderful. The staff is amazing. The group settings are great! The facilities are top of the line. This place will give you a very comfortable environment to change and to grow if that is what you seek. I would highly recommend Evolve Indy if you want to change your life. Take it from me and my own experience, this place can totally change your life and absolutely make you a better person. Put the work in with this program and you will be amazed.
I had a great time at Evolve. The people there truly care about you mentally, physically, and spiritually. I've dealt with health issues and they took me multiple times to doctors and specialists. The house is amazing. The Sunday outings are a great way to have some fun while in treatment. The classes are engaging and helps with underlying issues. I've been to other treatment centers and this one by far is dedicated to your success.
Evolve was seamless for me from living in a treatment facility -to- transitioning back to the real world. Their staff is experienced, knowledgeable and genuinely care. If you're willing to do yourself a favor by leaving your old life, give Evolve some serious thought.
I loved being here. I came from one 30 day treatment to this one. It helped me and my family really get thru some of the stuff we had been hiding and not dealing with it. We now have a better relationship and now I can have a opportunity to get my kids back home with me. Best decision I ever made was continuing my recovery with this place. Thank you for helping me.
This place has been a saving Grace for me. I came from inpatient to to Evolve and it was the perfect next step for me. I have gained so many skills and tips to help me along my journey. I would recommend this facility to any struggling addict or alcoholic.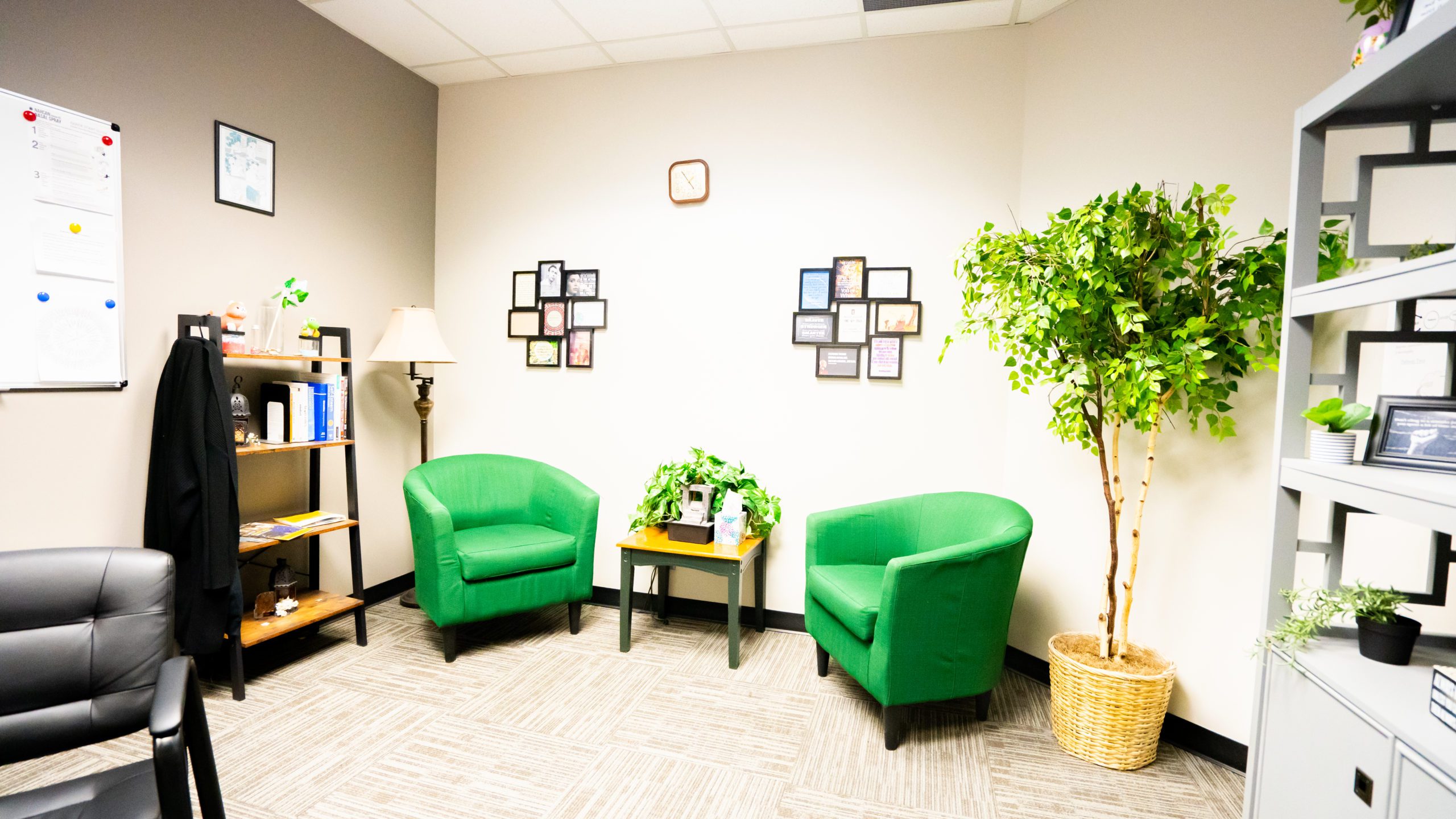 What to Expect When Seeking Treatment for Drug Addiction at a Kentucky Rehab Facility
If you are seeking treatment for drug addiction at a rehab facility in Kentucky, you can expect the following:
A Comprehensive Assessment: Before beginning treatment, you will undergo an in-depth assessment to determine the extent of your addiction and any co-occurring mental health conditions.

Medically Supervised Detoxification: If required, you will undergo detoxification under medical supervision to safely manage withdrawal symptoms.

Personalized Treatment Plan: A personalized treatment plan will be created for you. It may include a range of treatments such as individual and group therapy, behavioral therapies, medication management, and support groups.

Therapy Sessions: You will attend therapy sessions to help you understand the root causes of your addiction, learn coping skills, and develop strategies to prevent relapse.

Holistic Treatments: Many rehab facilities in Kentucky offer holistic treatments like yoga, meditation, art therapy, and exercise to help you recover physically, mentally, and spiritually.

Aftercare Planning: A plan will be developed to help you transition back into daily life and maintain your sobriety. This may include ongoing therapy, 12-step programs, and support groups.
Conquering Addiction: The Road to Recovery in Kentucky
Addiction is a widespread problem in Kentucky, but people are taking action to receive the treatment they need. It may seem daunting, but seeking help is critical for your health, wellbeing, and overall success. The first step towards recovery is asking for help, and Evolve Indy is here to support you throughout this challenging journey. We are committed to demonstrating that it is possible to break free from addiction and achieve long-term recovery.
You Can Trust Evolve Indy
How we are committed to your journey
Evolve Indy is here to help the state of Kentucky leave addiction behind. We are a premier substance abuse rehabilitation center and we understand that addiction is not a choice. At our addiction recovery center near Kentucky, we tailor each individual addiction treatment plan to meet the needs of every client we serve. As we work together to address addiction issues, it's important to consider the role that our individualized treatment plans can play in supporting long-term recovery. Here are a few ways our addiction recovery treatment plans create an effective care plan for every client we serve.
We create safe and welcoming spaces for support groups and counseling sessions that provide the emotional support and accountability needed.

Experienced doctors and clinicians are a part of our supportive and understanding staff here to assist in the recovery process. They monitor the recovery process and help provide a safe recovery that is as comfortable as possible. 

Holistic treatments are a large part of how we treat addiction at our facility. We want to teach you how to incorporate healthy lifestyle habits that are easy to continue throughout your life and assist in long-term recovery by keeping your mind, body, and soul in a positive state.

Expert therapy is provided that combines traditional and modern methods to successfully treat the root causes of addiction for long-term recovery results.

Luxury amenities that assist in distracting your mind during this recovery process are found throughout the facility and housing.

Our common areas are purposely designed public spaces that promote healthy behaviors and relationships for added support.

Dual-diagnosis treatment is provided at our facility to address the mental health needs that almost always accompany addiction. You cannot heal addiction without understanding and treating the mask behind addiction.

Evolve Indy provides spaces that promote physical activity and healthy hobbies as alternatives to drug use showing that a sober life can still be fun and full of adventure.

We have continued care that encourages community involvement and social connections to reduce isolation and provide a support network.

With family therapy and workshops, we teach healthy relationship skills that promote safety and security and reduce enabling behavior to reduce the risk of drug use and other harmful behaviors.
Insurance Can Help Pay for Treatment

Evolve Indy works with most major insurance providers to ensure the lowest out-of-pocket
costs when you enter treatment at our facility.
Fill out the form to get a free consultation.
One of our caring treatment advisors will
contact you as soon as possible.
Treatment Expectations At Evolve Indy
Evolve Indy is not your typical addiction treatment provider near Kentucky. We began with a single mission: to help those struggling with substance abuse, regardless of their situation. Evolve Indy works hard to meet all the individual needs of our clients and support the families of those impacted by the disease of addiction. 
Evolve Indy treats all types of substance abuse from alcohol and opioids to stimulants/sedatives and tobacco. We have various individual treatment programs to fit your specific needs. This includes intensive outpatient programs, such as partial hospitalization and IOP, and traditional outpatient counseling. We offer residential housing options while you complete our treatment program. Our clients also have the option of participating in 12-step support groups. The experienced doctors and clinicians at Evolve Indy offer numerous separate types of therapy ranging from art therapy to intervention and trauma-focused therapies.
Our treatment program provides expert-level therapy in combination with modern and traditional methods in order to effectively treat the root causes of addiction. Evolve Indy holds the highest standards for each level of addiction treatment care we provide. We are here to help you recover from the disease of addiction. Don't wait, hope and help are around the corner waiting for you at Evolve Indy.
Don't Let Addiction Win. Start Your Recovery, Now.