Anxiety Treatment At A Drug Rehab Center in Indiana​
For those struggling with anxiety, seeking treatment can be a daunting task. However, finding the right treatment can be life-changing. If you're located in Indiana and want to find the best anxiety treatment, consider Evolve Indy.
Anxiety Treatment At A Drug Rehab Center​
Anxiety is a class of mental health disorders that have gained significant recognition in our society. For the most part, this has had a positive impact on the stigma associated with mental health concerns. There is now a better understanding of what anxiety disorders are and some of the common symptoms. The National Institute of Mental Health (NIMH) estimates that approximately 31.1% of American adults struggle with an anxiety disorder at least once in their life.
Mental and Medical Health Professionals use the Diagnostic and Statistical Manual of Mental Disorders Fifth Edition (DSM V) to diagnose mental health disorders. When we look at the chapter on Anxiety Disorders, we see that there is a variety of different conditions that fall into this category.
Of the Anxiety Disorders listed in the DSM V, the most common disorders include:
Panic Disorder
Generalized Anxiety Disorder
Specific Phobias
Social Anxiety Disorder
Post-Traumatic Stress Disorder (PTSD)
Separation Disorder
Obsessive-Compulsive Disorder (OCD)
Different Anxiety Disorders may have similarities; however, there are notable differences among the associated symptoms. For example, someone who is struggling with PTSD may experience nightmares or flashbacks, whereas someone with OCD may struggle with obsessions and compulsions in their behavior. Some individuals do not show obvious signs of anxiety that may be noticed by others, while someone having a flashback could be quite clear.
It is common for Anxiety Disorders to be lumped together when being talked about in various forms of media. This can lead to confusion and misinformation regarding the different anxiety conditions.
The NIMH reported that from 2001 to 2003, there was a higher percentage of anxiety disorders among women compared to men. Adults between the ages of 30 to 44 had a slightly higher prevalence of anxiety disorders than 18 to 19 years old. Adults who were 60 years and older had the lowest rates of anxiety disorders.
When to Get Help For Anxiety in Indiana
So, where is that line of when our worries and fears become problematic? If you have found yourself asking that question, you may be at a point where you should check in with a mental health professional. In order to have a thought like this, you have likely noticed that something doesn't feel right in your life.
Maybe you have noticed changes in your ability to function at work or school. Maybe you are beginning to realize how uneasy you feel in social situations, or in new places. Or it could be that you feel as though your mind is constantly running on overdrive. Anxiety will look different for everyone, even individuals who struggle with the same illness will have differences in their experience.
Other signs that you would benefit from talking to a mental health professional would be, if your anxiety symptoms are getting in the way of your daily activities. This can include your ability to work, maintain proper hygiene, maintain your relationships, and maintain a healthy lifestyle (i.e., diet and exercise).
Individuals who are having panic attacks should also check in with their doctor. An accumulation of symptoms such as an inability to concentrate, sleep disturbances, changes in appetite, irritability, and restlessness are also signs that you should reach out for help.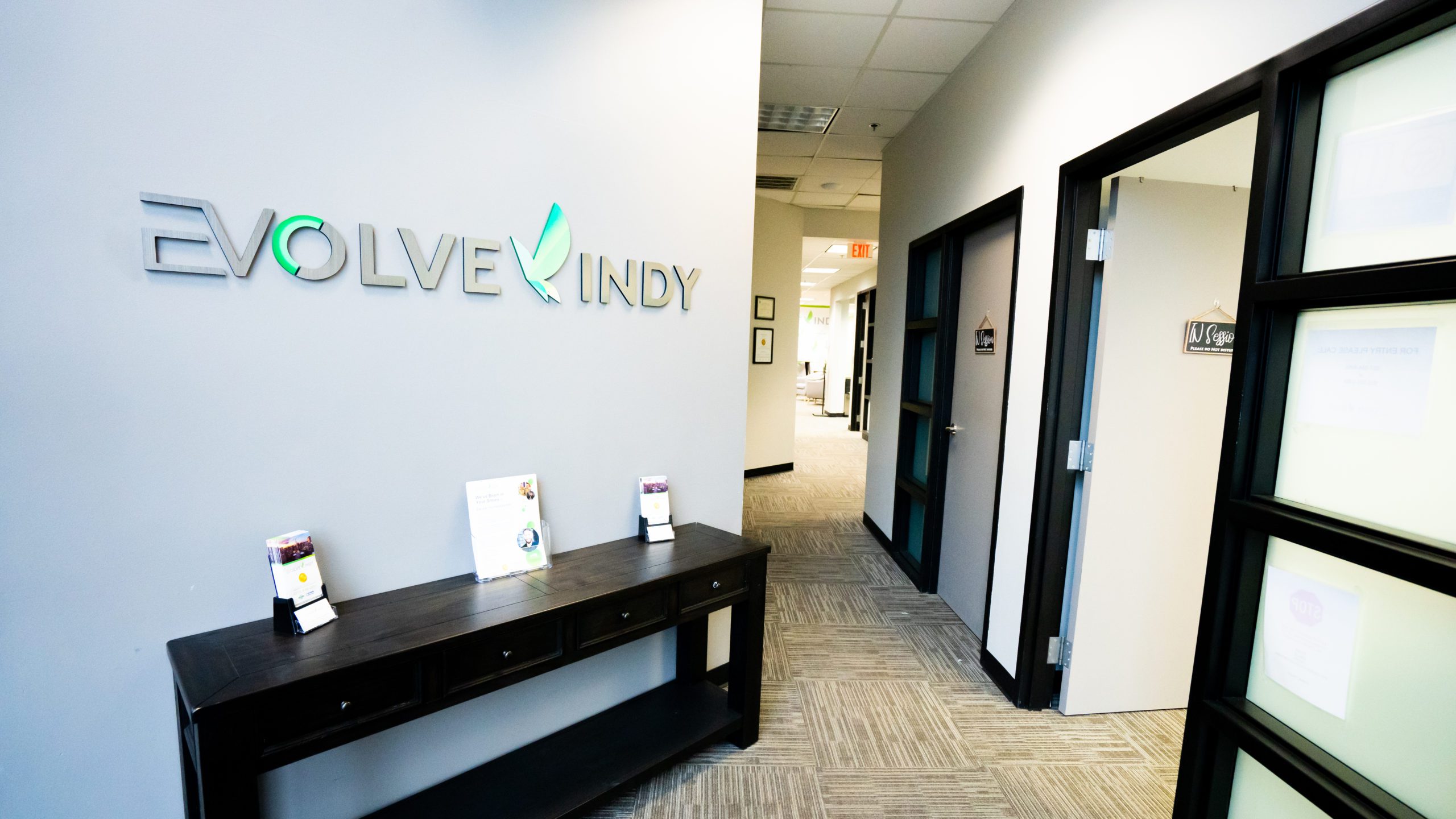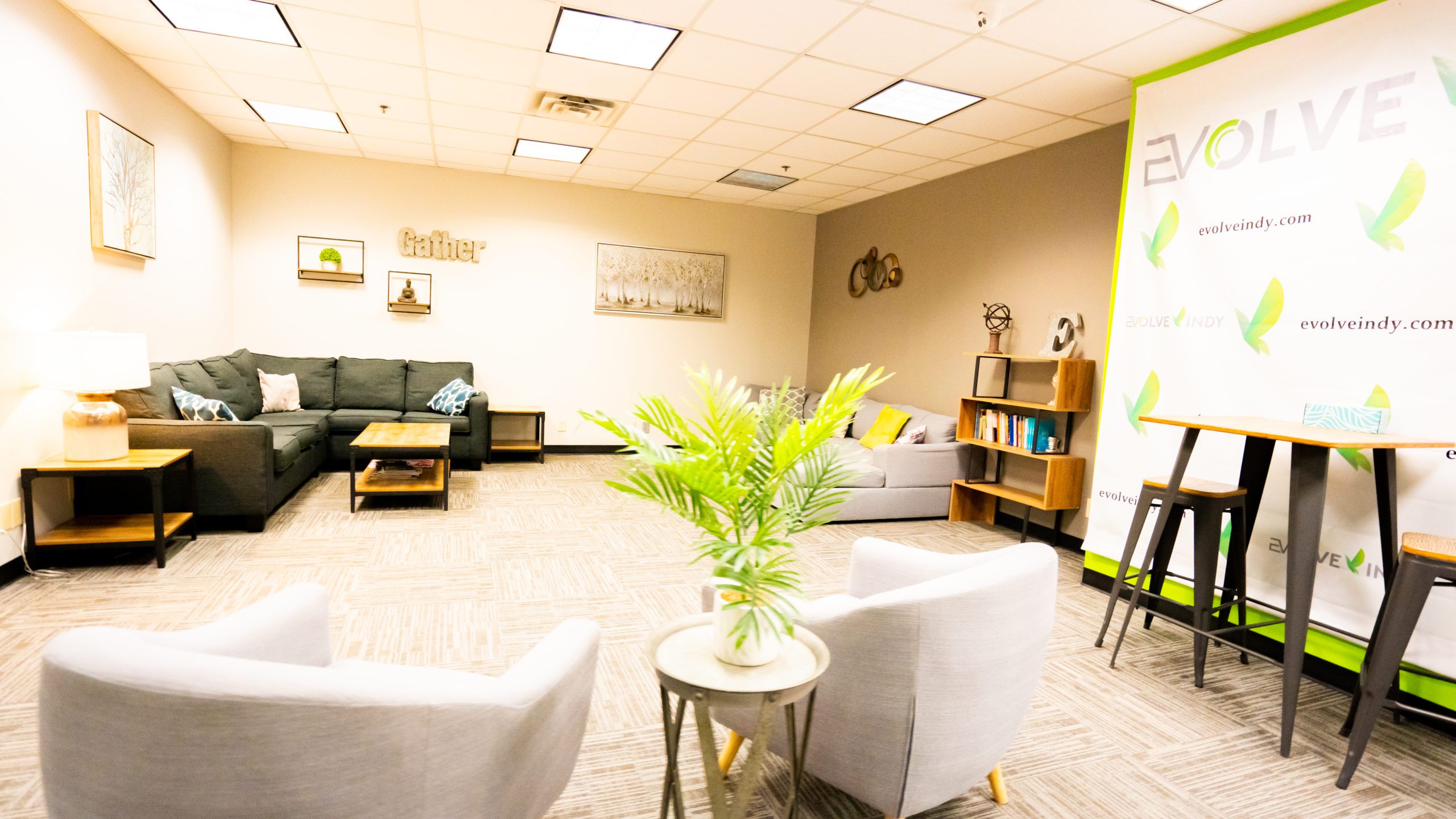 Discover Our Carefully Curated Environment
The environment of a rehabilitation facility matters. The positive and negative impacts of the surroundings in a recovery center can make or break the outcome of recovery. Designing a drug rehab facility near East St. Louis requires a thoughtful approach that prioritizes the needs of patients and staff.
Evolve Indy has taken many measures to provide an environment that caters to our staff and clientele. This results in a high success rate for long-term recovery. Here are some of the quality accommodations we provide at Evolve Indy.
We have designed our rehabilitation center to promote healing and recovery within a calming environment.

Thoughtful spaces that accommodate various therapeutic activities and support group sessions.

A layout that encourages movement and social interaction while maintaining privacy and safety.

Accessible and comfortable living spaces that feel like home and provide a safe place during a difficult time.

Thoughtful selection of materials, colors, and textures that are durable, low-maintenance, and promote a positive atmosphere.

Integration of natural elements such as plants and natural light for a restorative effect.

Incorporation of state-of-the-art technology to support treatment and monitoring.

Compliance with all applicable regulations and standards to ensure patient safety and well-being.

A culture purposely curated for understanding and caring support. Staff members who are in recovery, or love someone in recovery have been thoughtfully chosen to join our team for increased support and proof that recovery is possible.
Drug Addiction Treatment Center in East St. Louis
Individualized & Customized Addiction Treatment Programs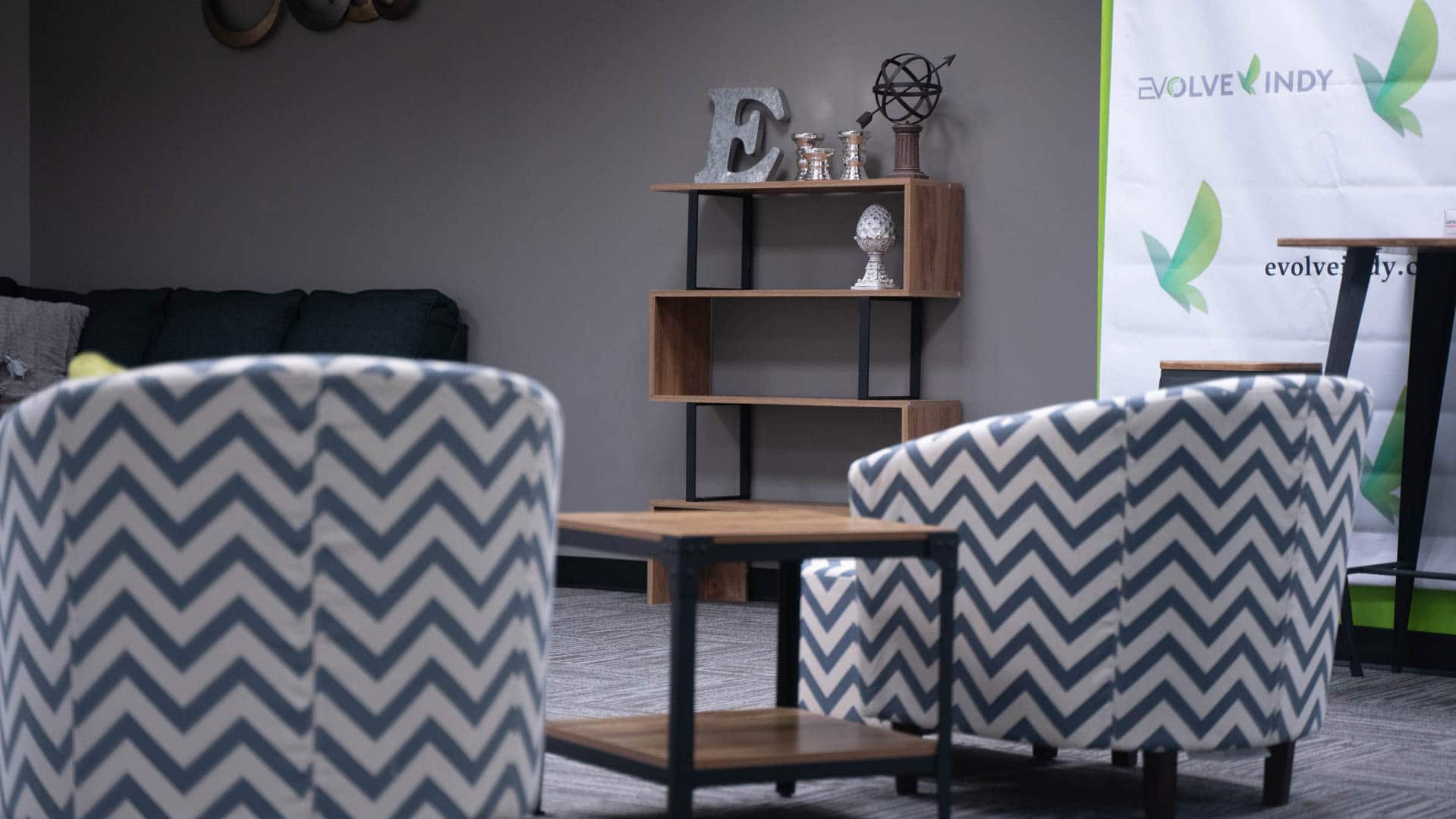 Partial Hospitalization
This model of care is comprehensive, enabling individuals to take back control of their lives and overcome addiction through a variety of evidence-based treatments.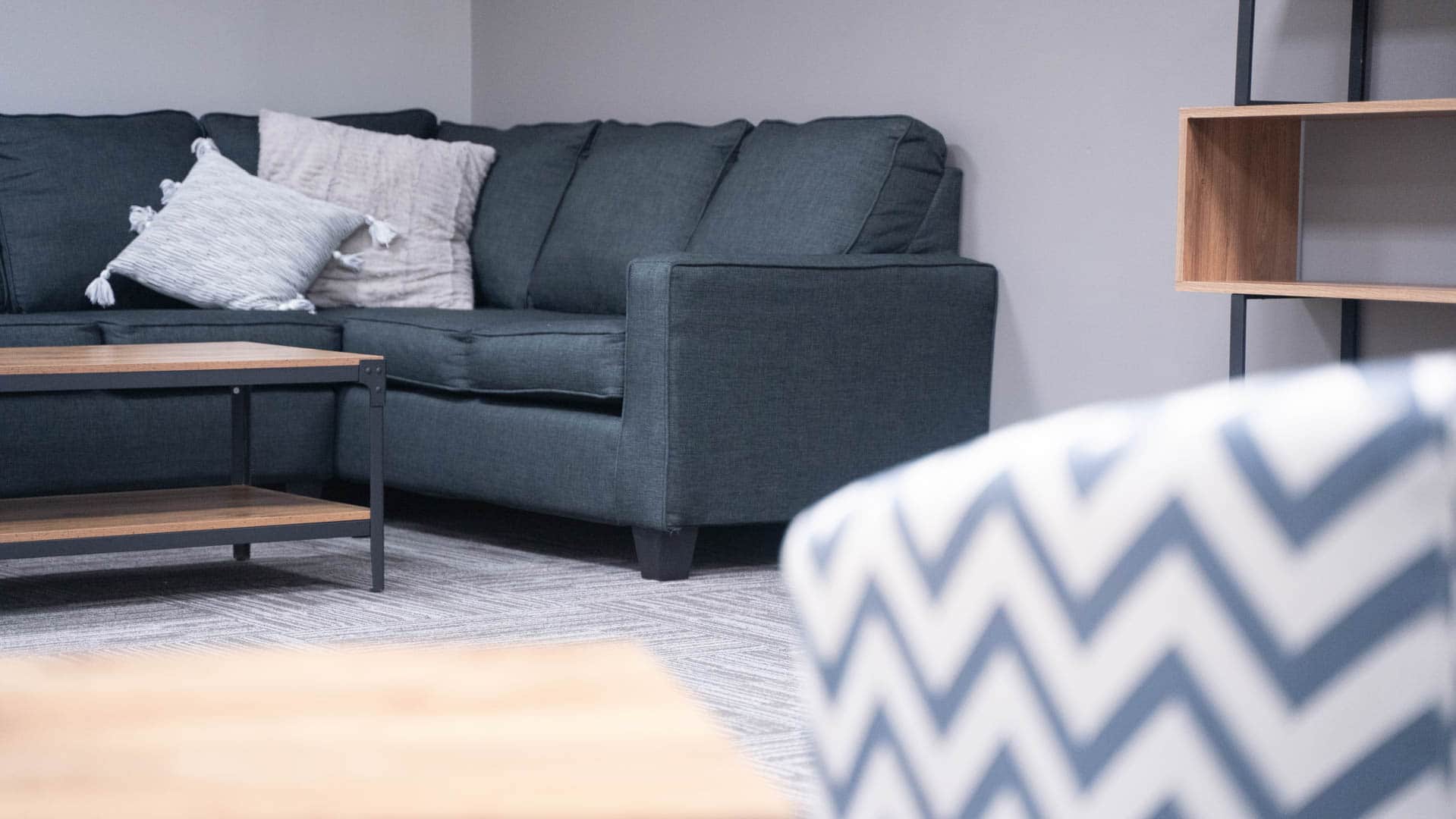 Intensive Outpatient
Our intensive outpatient program aids individuals struggling with drug and alcohol addiction in discovering a lasting journey to recovery, facilitated by ongoing, extended treatment.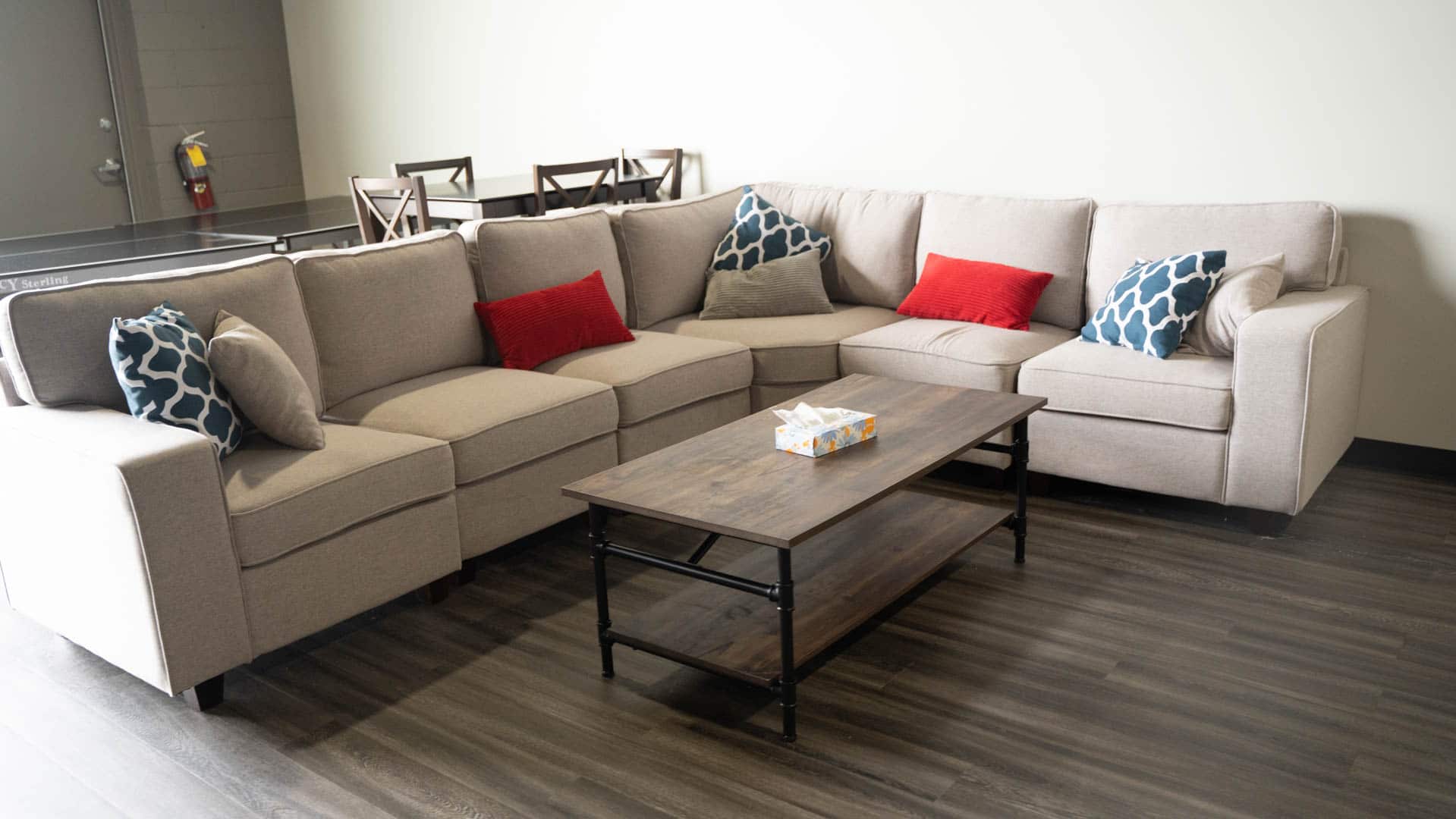 Outpatient Program
The outpatient program at Evolve Indy serves as a reduced intensity level of care, integrating the essential elements of our primary program with a more flexible approach.
What to Expect in an Anxiety Treatment Center in Indiana​​
Anxiety 
treatment centers in Indiana
 can use a variety of approaches to help treat your anxiety. This can include psychotherapy, alternative therapies, and medications. Services available to you will depend on the training and experience of the treatment providers.
Psychotherapy usually refers to individual counseling with a mental health professional, such as a counselor. There are many treatment methods that have been proven to be effective with anxiety treatment. These would include Cognitive Behavioral Therapy, Dialectal Behavioral Therapy, Exposure Therapy, and Acceptance and Commitment Therapy.
Any recommendation for anxiety medications will be dependent on your symptoms. Some of the medications that are used to treat anxiety are known to be addictive if not taken as prescribed. If you have a history of drug and alcohol misuse and abuse, your doctor will likely decide to use nonaddictive medications.
Alternative therapies can be used with counseling and medications, or on their own. Common recommendations for those struggling with anxiety would include yoga, meditation, and stress management. It is worth noting that there are many different forms of meditation including guided meditation. The goal of meditation is not to stop our thoughts, but rather to learn to get comfortable with having them.
Insurance Can Help Pay for Treatment

Evolve Indy works with most major insurance providers to ensure the lowest out-of-pocket
costs when you enter treatment at our facility.
Fill out the form to get a free consultation.
One of our caring treatment advisors will
contact you as soon as possible.
Evolve's Anxiety Treatment Center Can Help​
Evolve Indy treats individuals in Indianapolis, IN, and the surrounding area. We are a drug and alcohol addiction facility in Indiana that provides anxiety treatment as part of a dual diagnosis program. We have multiple different levels of addiction treatment programs, each having its own goals and unique design.
We work with individuals who have a variety of addictions, including those struggling with alcohol, opioids, cocaine, and heroin. Our staff is trained and qualified to offer you specialized treatment options for men, women, professionals, and treatment programs for the LGBTQ+ community in Indiana. We also provide treatment for mental health concerns, including anxiety disorders.
Research has shown that anxiety is the second most common mental health concern found with addiction. So, if you are struggling with both anxiety and substance use, know that you are not alone and that there is help available to you. Our staff is knowledgeable and experienced in treating anxiety disorders. We are able to provide you with anxiety treatment in all of our addiction treatment programs.
Our rehab offers a Partial Hospitalization Program (PHP). With this program, you will come to our treatment facility during the day and return to your home for the night. We work with you to address any negative thought patterns you struggle with, learn new coping skills, and learn to regulate your emotions in a healthy manner. This treatment program will include group and individual therapy. We do offer family therapy as well.
We offer sober community housing to individuals who are engaged in our treatment programs. This includes our PHP. Our sober homes can help provide you with a safe and sober home environment. For those who have concerns about remaining in their home, or those who don't have one, this is a great option for you to consider.
Our Intensive Outpatient Program (IOP) would be appropriate for individuals who have completed an inpatient rehab program, PHP, and those who have a mild use disorder. With our IOP program, you will be in 15-25 hours of group therapy each week with an hour of individual therapy per week. The number of group sessions you are scheduled to attend will be dependent on your treatment needs. Individuals in our IOP are also invited to use our community housing option if they are in need.
Our Outpatient Program includes group and individual therapy. We will do our best to accommodate your treatment schedule with your other responsibilities. We understand that many of the individuals who are in our Outpatient Program have responsibilities, including work and school. If you are taking medication for addiction or mental health reasons, you would be able to continue meeting with our medical staff to maintain your regime. Some individuals are in this program for up to one year.
Our family program is an excellent resource for your loved ones. Family programming focuses on your family unit and trying to navigate how you can move forward together. This program can help your family understand addiction and how they can support you as you move forward with your recovery.
If you find yourself having questions about the services offered at Evolve Indy in Indianapolis, please call us at (855)495-1063, and a representative will discuss how we can help you today. Our staff and exceptional programming will help you feel confident about moving forward in your recovery journey.
If you are in need of treatment and are seeking a way out of addiction, you should stop reading and call Evolve Indy. They will provide you with all the necessary tools to get you ready to become the best version of yourself all while staying in comfortable accommodations. The staff is top notch and the therapists are wonderful. Everyone will go out of their way to make sure you feel supported.
Evolve Indy is a true blessing.
For anyone needing help with substance abuse, if you are tired of living the way your living. If you want something different, a new way of living. This is the place for you. The therapy is wonderful. The staff is amazing. The group settings are great! The facilities are top of the line. This place will give you a very comfortable environment to change and to grow if that is what you seek. I would highly recommend Evolve Indy if you want to change your life. Take it from me and my own experience, this place can totally change your life and absolutely make you a better person. Put the work in with this program and you will be amazed.
I had a great time at Evolve. The people there truly care about you mentally, physically, and spiritually. I've dealt with health issues and they took me multiple times to doctors and specialists. The house is amazing. The Sunday outings are a great way to have some fun while in treatment. The classes are engaging and helps with underlying issues. I've been to other treatment centers and this one by far is dedicated to your success.
Evolve was seamless for me from living in a treatment facility -to- transitioning back to the real world. Their staff is experienced, knowledgeable and genuinely care. If you're willing to do yourself a favor by leaving your old life, give Evolve some serious thought.
I loved being here. I came from one 30 day treatment to this one. It helped me and my family really get thru some of the stuff we had been hiding and not dealing with it. We now have a better relationship and now I can have a opportunity to get my kids back home with me. Best decision I ever made was continuing my recovery with this place. Thank you for helping me.
This place has been a saving Grace for me. I came from inpatient to to Evolve and it was the perfect next step for me. I have gained so many skills and tips to help me along my journey. I would recommend this facility to any struggling addict or alcoholic.
Don't Let Addiction Win. Start Your Recovery, Now.